The Union has commenced a study into the integration of smoking cessation within National Tuberculosis Programmes in Benin and Burkina Faso.
Smoking has negative consequences for people with tuberculosis (TB), such as the progression of TB infection to active TB, the development of drug-resistant TB and adverse treatment outcomes.
The latest World Health Organisation Global TB Report estimates that 7% of all TB cases globally were attributable to smoking in 2020.
In Africa, the number of people smoking is increasing. However, smoking cessation assistance is not a significant component of National Tuberculosis Programmes (NTPs) in most West African countries.
In West Africa, there are also no studies on the feasibility of implementing smoking cessation interventions for people with TB or on the influence of smoking on treatment outcomes and relapse after the end of TB treatment.
Therefore, The Union has identified the need to fill the evidence gap for NTPs to adopt smoking cessation as part of routine TB control activities.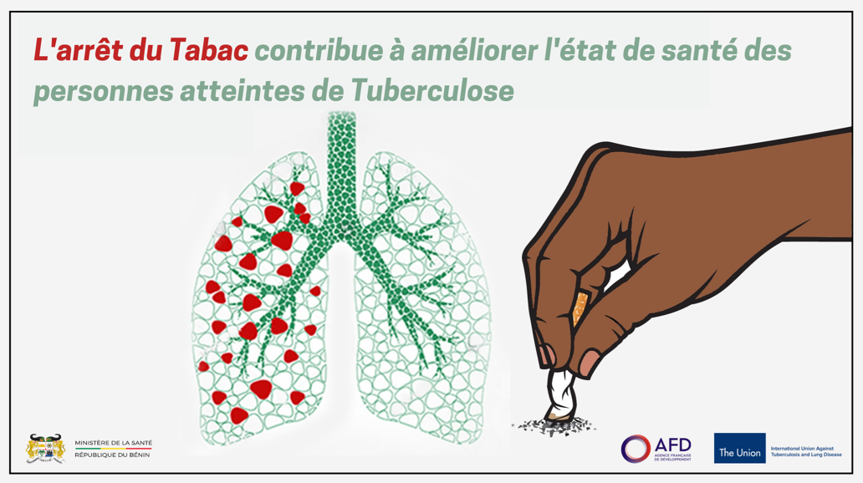 Prof Gisèle Badoum, Technical Advisor at The Union, explained: "This will be the first time integration of smoking cessation within NTPs in Africa has been studied. We hope our findings will help identify how we can support people with TB to stop smoking and improve their treatment outcomes."
The study will aim to:
Explore the possibility of including a smoking cessation intervention in routine NTP services 

Improve the ability to provide counselling to people with TB who smoke

Increase the rate of smoking cessation in people with TB throughout the six months of TB treatment

Improve the results of TB treatment and reduce the risk of relapse 

Develop simple and standardised tools for recording and reporting smoking cessation activity in TB
The study will implement The Union's ABC approach to smoking cessation, which was proven in China, Indonesia, India, Bangladesh and several other countries.
The study, launched in December 2021, will take place over a period of 36 months – six months of inclusion within treatment and 30 months of follow-up.