Working in tandem with the Revised National TB Control Programme (RNTCP), Project Axshya, meaning TB free, has been able to reach key affected populations, enhance community ownership and create demand for quality services for TB control amongst communities who have the greatest difficulty in accessing TB diagnosis and treatment.
The Union's Project Axshya was launched in April 2010, and is financed by the Global Fund to Fight AIDS, Tuberculosis and Malaria.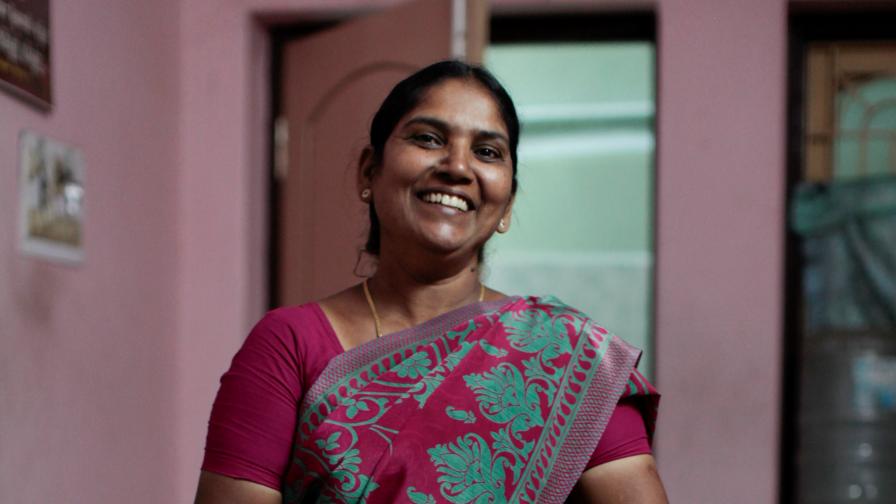 Jamuna, 55, lives a normal life after being cured of TB. She was photographed in her home in Chennai during a visit from staff partnering with The Union's Project Axshya. India has the highest number of people with TB in the world, accounting for 25 percent of the global burden. The Union's Project Axshya works in partnership with seven sub-recipient partners, a local network of NGOs and more than 15,000 volunteers to provide innovative TB interventions designed to serve traditionally hard-toreach and at-risk populations.
How it works: the Axshya approach
Project Axshya works in 128 districts across 14 states in India, working to increase awareness of TB, facilitate TB testing, and transport sputum samples in India. 
Initiatives include:
TB 'kiosks', or small, decentralised TB service centres with extended visitors' hours where volunteers administer treatment, collect sputum samples and provide drop-in consultations. Project Axshya has established 97 TB treatment and information kiosks in 40 cities in India to provide better and more patient-centred care. These kiosks provide TB information, counselling and directly observed treatment services to patients and their families. The kiosks address the common challenges faced by the community, including the limited opening hours of healthcare centres, difficulty in accessing care and a lack in personalised service. In 2016, over 30,000 people in vulnerable and at-risk communities benefitted from these services.
Counselling services to support people with multidrug-resistant TB. In the first three years of being set up Project Axshya counselling service reached over 8,000 MDR-TB patients with services offered at health facilities such as chest clinics and DOT centres, as well as in patients' homes. The role of counsellors is crucial to ensuring people with MDR-TB remain motivated to complete the arduous treatment regimen. Counselling focuses on treatment adherence, as well as psychosocial care, advice to families and caregivers and nutritional support.
A vast volunteer network mobilised throughout the country to address the needs of vulnerable populations with regard to TB information, screening, treatment and support. In 2016, Project Axshya ran a partnership with Muslim religious schools where trusted community leaders disseminated TB information. The project started a community radio initiative that shared information and encouraged the conversation about TB in over 2,000 hours of programming in nine languages and across 17 states. A TB telephone helpline was set up which reached over 125,000 people with easily accessible information, 12 hours a day, in regional languages across six states.
Piloting a web-based software project to provide real-time case reporting and treatment adherence support to people receiving TB care through the private sector. In collaboration with partners, Project Axshya piloted a web-based project, which used unique software that automatically notified TB cases to India's Revised National TB Control Program and sends daily text messages and twice weekly interactive voice response calls to people with TB, reminding them to take their medication and schedule follow-up visits and tests. In India, nearly 50 percent of people with TB rely on the private sector for treatment, which leads to incomplete data reporting at government level and a higher incidence of incomplete treatment due to a lack of follow-up procedures. The pilot phase reported a 95 percent treatment adherence rate and 90 percent satisfaction from people receiving TB treatment.