The Union has worked in South-East Asia since 2006, providing grants and technical support to organisations working on tobacco control activities through the Bloomberg Initiative to Reduce Tobacco Use (BI) Grants Program. Bangladesh, India, and Pakistan are BI grants program priority countries, but The Union also supports other countries in the region, including Sri Lanka and the Maldives.
The Union South-East Asia Office works closely with ministries of health, non-governmental organisations (NGOs) and academic institutions in countries of the region to establish and strengthen Tobacco and Non-Communicable Disease (NCD) control programmes.
In India, The Union supports the National Tobacco Control Programme and other initiatives in more than 30 states and territories through projects and partnerships reaching-out to over 500 districts, benefitting more than 750 million people in the country. The core functions of The Union South-East Asia Office are:
Technical assistance for tobacco control

Capacity Building/Training and Education

Operations Research

Technical and Financial monitoring of the BI Grants Programme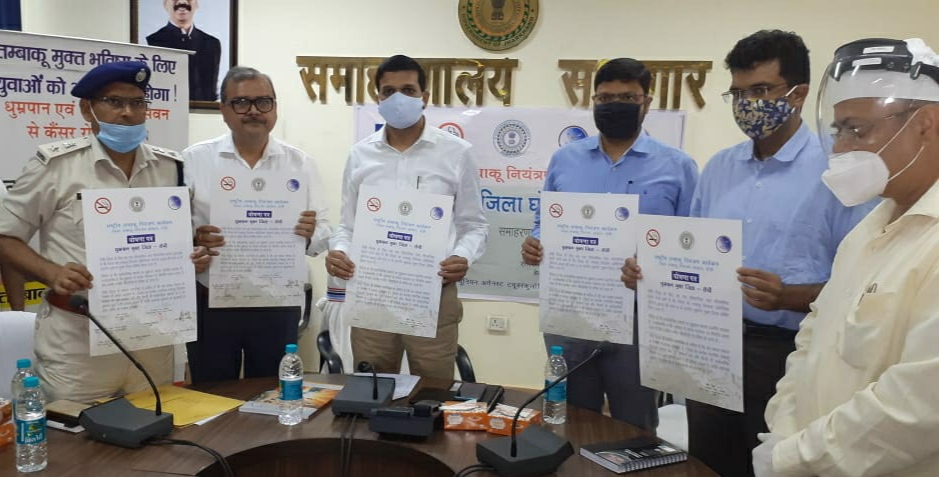 Capacity Building-Sensitisation, Consultation and Training
National level: 10 programmes with over 4,100 participants
National Summit on World No Tobacco Day 2020: A virtual conference with the theme 'Protecting youth from industry manipulation and preventing them from tobacco and nicotine use' was held on 29 May 2020. The Resource Centre for Tobacco Control, PGIMER, Chandigarh (established under The Union's BI project) organised the conference in collaboration with The Union and Strategic Institute for Public Health Education and Research. The summit was inaugurated and chaired by Mr Banna Gupta, Honourable Health Minister, Government of Jharkhand and attended by many tobacco control experts. More than 40 speakers chaired and presented at the summit which was attended by an estimated 600 participants from India and 15 other countries.
Dr Rana J Singh, Deputy Regional Director, The Union South-East Asia Office said: "The Union has strongly advocated for the prohibition of the sale of e-cigarettes and heated tobacco products in low- and middle-income countries (LMICs), which are home to more than 80 percent of the world's smokers." He also shared The Union's position paper 'Where bans are best: Why LMICs must prohibit e-cigarettes and heated tobacco product sales to truly tackle tobacco' .
Sub-national level: Over 40 sensitisation and training sessions with more than 8400 stakeholders
'Tobacco-Free Generation – Role of Educational Institutions' webinar in Telangana: In a strong call to prevent youth from indulging in tobacco practices, a webinar was organised by E-Resource Centre for Tobacco Control (E-RCTC) and the Department of Community Medicine & School of Public Health, PGIMER Chandigarh on 22 July 2020. The webinar was held in collaboration with Gandhi Medical College, Hyderabad and The Union. More than 3,500 participants (school principals, teachers and other staff from various school) from the state of Telangana registered for the webinar and over 11,00 participants finally attended it. The webinar was chaired by Dr Seshu Kumari, Director of State Council of Educational Research and Training, Government of Telangana where The Union and PGIMER provided technical and faculty support.
Technical Support - major milestones and achievements
Technical support to Karnataka, West Bengal, Manipur, Madhya Pradesh and Jharkhand states to advance Tobacco Vendor Licensing (TVL): Technical and faculty support training, launch of operational guidelines by Mayor of Ranchi City and guidelines drafts submitted to four states
State level ban on sale of single/loose cigarette and bidi in Maharashtra
Complete ban on consumption of tobacco products on public transport in Uttarakhand

Technical and policy support to National Tobacco Testing Labs (NTTLs) and tobacco product regulation policies:

Technical Support was provided to working groups on National Tobacco Regulator Forum (NTRF) and Scientific Support Group on NTTLs for India

Technical support for workplace guidelines: The Union supported the incorporation of tobacco control interventions within 'COVID Safe workplace guidelines for industry and establishment' issued by Employees' State Insurance Corporation

 (ESIC)
Research and Publication
Compliance Assessment of COTPA in 14 districts of Karnataka and six districts of Jabalpur division of Madhya Pradesh

Amalia B, Kapoor S, Sharma R, Fu M, Fernández E, Rana JS. Online sales compliance with the electronic cigarettes ban in India: a content analysis. International Journal of Public Health
Yadav A, Glantz SA. Tobacco imagery in entertainment media: evolution of tobacco-free movies and television programmes rules in India. BMJ Global Health

Compliance survey to assess availability of smokeless tobacco and pan masala in the state of Jharkhand

Contribution with many chapters to Tobacco Control in India Report-2

Lal P, Mishra D, Singh RJ. A "Bottom-up approach" to introduce ban on tobacco products to prevent spitting during COVID-19: An early review of progress made and challenges. International Journal of Noncommunicable Diseases

Best Scholar presentation award at the e-Conference 'Environmental Determinants of Infectious Diseases in India (Focus COVID-19)' organised by International Institute of Health Management Research (IIHMR), New Delhi in collaboration with National Institutes of Health (NIH), United States

Mishra D, D'souza R, Amin A, Lal P, Kishore K. India's regulatory struggle to rein in smokeless tobacco use: is Covid-19 a game changer? Tobacco Control. BMJ
BelaDenta A, Kapoor S, Sharma R, Singh RJ. E-cigarettes retailer storefronts availability following a nation-wide prohibition of e-cigarettes in India: a multicentric compliance assessment. Tobacco Prevention & Cessation
BelaDenta A, Kapoor S, Sharma R, Fu M, Fernández E, Rana JS. Online sales compliance with the electronic cigarettes ban in India: a content analysis. International Journal of Public Health
Yadav A, Glantz SA. Tobacco imagery in entertainment media: evolution of tobacco-free movies and television programmes rules in India. BMJ Global Health
Mehra R, Mehra K, Kapoor S. Bringing public health to dentistry amid the COVID-19 pandemic. Cancer Research, Statistics, and Treatment