The Union's members work together to organise regional scientific conferences bringing together experts to focus on topics of importance to public health in the region. These events provide an opportunity to present region-specific research, discuss innovative local programmes and offer training targeted to regional needs.
The Union is divided into seven regions to help address lung health and related issues from a regional perspective. Members can network with colleagues who face the same regional challenges and contribute to The Union's deep understanding of local issues.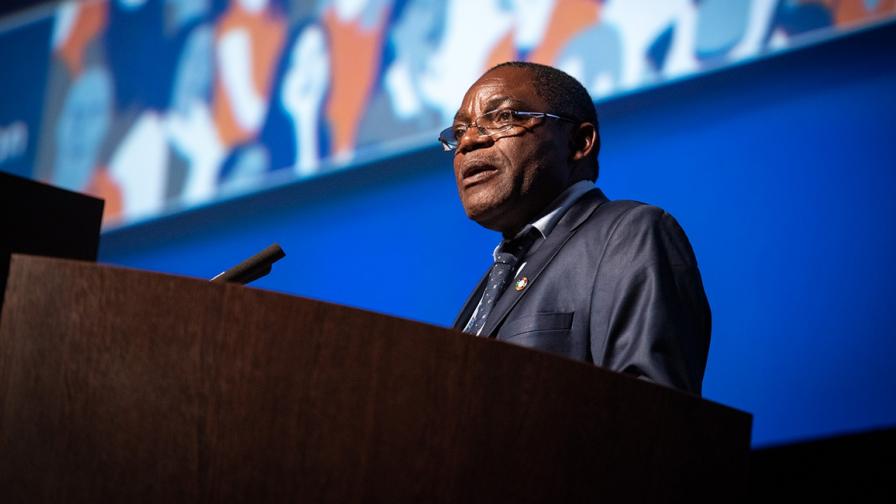 Past Conferences
24th Conference of The Union North America Region
27- 29 February 2020
Chicago. Illinois, USA
Website: https://bc.lung.ca/health-professionals/annual-tb-conference-union-nar
19th Conference of The Union Latin America Region
3-6 July 2019
Atlapa Convention Centre, Panama 
The Conference of The Union Latin America Region in conjunction with the Latin American Thorax Association (ALAT, for its initials in Spanish) Annual Congress from 3-6 July. 
7th Conference of The Union Asia Pacific Region
23-26 April 2019
Manila, The Philippines
Website: http://unionaprc2019.org/
A European track formed part of the 49th Union World Conference on Lung Health, held in The Hague, The Netherlands, 24-27 October 2018. Find out more.
22nd Conference of The Union North America Region
27 February - 3 March 2018
The Westin Michigan Hotel.
Chicago. Illinois, USA
Download: Conference brochure (PDF 1.1 MB)
20th Conference of The Union Africa Region
10-13 July 2017
Accra International Conference Centre
Accra, Ghana
Theme: Accelerating implementation through Partnerships to END TB/HIV, Tobacco and other related NCDs
Website: http://2017accralunghealth.org/  
6th Conference of The Union Asia Pacific Region
22–25 March 2017
Tokyo International Forum
Tokyo, Japan
Theme: TB free Asia Pacific – Accelerate steps towards healthier lungs
Coordinating organisation: Japan Anti-Tuberculosis Association
Website: http://www.aprc2017.jp/
Email: info@aprc2017.jp
21st Conference of The Union North America Region
22-25 February 2017
Sheraton Vancouver Wall Centre Hotel
Vancouver, BC, Canada
Theme: End TB
Coordinating organisation: BC Lung Association  
Website: https://bc.lung.ca/support-services/union-north-america 
Email: tbconference@bc.lung.ca
18th Conference of The Union Latin America Region
4–5 November 2016
Swiss Hotel – Lima www.swissotellima.com.pe
Lima, Peru
Official language: Spanish
Coordinating organisation: Sociedad Peruana de Neumología  www.spneumologia.org.pe   
7th Conference of The Union Europe Region
22-24 June 2016
New Building of the National Theatre 
Bratislava, Slovakia
Theme: Know–Share–Act in the fight against TB and lung diseases
Coordinating organisations:Slovak Medical Association, Slovak pneumological and ftiseological association of the Slovak Medical Association
Website: http://www.unionconference2016bratislava.org/
3rd Conference of The Union South-East Asia Region  
26-27 May 2016
Kathmandu, Nepal
Theme: TB and lung health 
Coordinating organisation: Nepal Anti-Tuberculosis Association                                                                                                                              Website: www.searconference.com
Email: nata@antitb.wlink.com.np         
Joint 20th Conference of The Union North America Region and the National TB Controllers Association
24-27 February 2016
Sheraton Downtown Hotel
Denver, Colorado (USA)
Website: https://bc.lung.ca/support-services/union-north-america-national-tb-controllers-association
Email: tbconference@bc.lung.ca 
5th Conference of The Union Asia-Pacific Region
31 August-2 September 2015
Hilton Sydney Hotel http://www.hiltonsydney.com.au/
Sydney, Australia
Theme: Reducing the Burden of TB and Lung Disease by Increasing and Expanding Regional Partnerships
Coordinating Organisation: The Australian Respiratory Council (ARC) - www.thearc.org.au  
Website: www.aprunion2015.com 
Email: info@aprunion2015.com 
19th Conference of The Union North America Region
26-28 February 2015
Sheraton Vancouver Wall Centre
Vancouver, BC Canada
Theme: Stronger together: Stopping TB from laboratory to clinic
Email: biagtan@bc.lung.ca
Website: http://www.bc.lung.ca/association_and_services/union.html
28th Conference of The Union Middle East Region
24-27 March 2015
Cairo, Egypt
http://egyptsct.info
17th Conference of The Union Latin America Region
22 August 2014
Hotel Las Dunas – Ica  www.lasdunashotel.com
Ica, Perú
Theme: Comprehensive approach to TB and social determinants
Official language: Spanish
Coordinating organisation: Sociedad Peruana de Neumología  www.spneumologia.org.pe
Email: LARconference@theunion.org
The 2nd Conference of The Union South-East Asia Region
"TB in 2050: Challenge to Humanity"
9–12 March 2014
Hotel Pan Pacific Sonargoan
Dhaka, Bangladesh
Coordinating Organisation: National Anti-TB Association of Bangladesh
Conference website: http://con2014theunionbd.com/ 
The 18th Conference of The Union North America Region
"Stronger together: Stopping TB from laboratory to clinic"
27 February–1 March 2014
Sheraton Boston Hotel
Boston, Massachusetts
Conference website: http://www.bc.lung.ca/association_and_services/union.html
19th Conference of The Union Africa Region 
20-22 June 2013
Serana Hotel
Kigali, Rwanda
Theme: Tuberculosis and other lung diseases: successes and challenges
Official languages: French, English
Coordinating organisation: Rwanda TB Forum
http://www.rwandatbforum.org/
4th Conference of The Union Asia-Pacific Region
10-13 April 2013
Melia Hotel
Hanoi, Viet Nam
Theme: Optimal use of new technology and approach
Official languages: English, Vietnamese
Coordinating organisation: Vietnam Association Against Tuberculosis and Lung Diseases
http://aprc2013.com.vn/rss/index.php
17th Conference of The Union North America Region
28 February-2 March 2013
Sheraton Wall Centre Hotel
Vancouver, BC (Canada)
Theme: TB, the air we share
Official language: English
Coordinating organisation: British Columbia Lung Association
6th Conference of The Union Europe Region
4-6 July 2012
Imperial College London
London, United Kingdom
Theme: Tuberculosis and lung disease: threats and promises
Official language: English
Supported by The Union Europe Office and the UK Health Protection Agency
https://www.hpaevents.org.uk/hpa/frontend/reg/thome.csp?pageID=56137&eventID=125&eventID=125
16th Conference of The Union Latin America Region
28-30 March 2012
Hotel Riu Panama Plaza
Panama City, Panama
Theme: Lung cancer
Official language: Spanish
27th Conference of The Union Middle East Region
27-30 March 2012
Cairo, Egypt
Official language: English