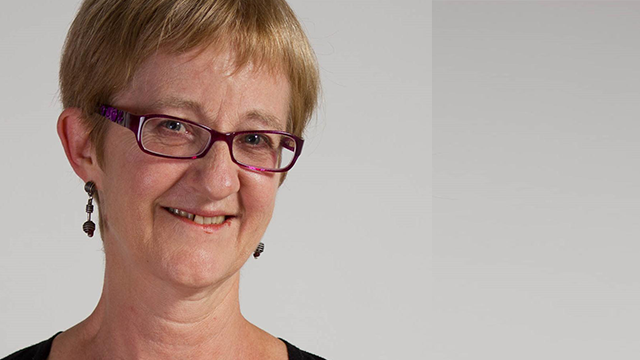 Valérie Schwœbel has been a medical professional for over 30 years, specialising in data surveillance and epidemiology with a specific interest in TB. But throughout all of those years she has never lost sight of one thing – that behind all the data and number crunching her work, ultimately, is about saving lives.

When Valérie finished medical school in 1984 she decided that paediatrics was the area of medicine she'd like to specialise in. Things didn't quite turn out as planned, however, after Valérie decided to travel overseas to work for a year. It was a decision that would have a profound effect on her both personally and professionally.

She went to work with Médecins sans Frontières (MSF) in Africa after she had fallen in love with the continent while holidaying there. The year with MSF quickly turned into 2 and a half and saw her career veer from paediatrics into public health.

What Valérie witnessed in Somalia and Ethiopia at the height of the famine was traumatic and fuelled her decision to take a different path.

"I changed my mind," she says simply. "I realised that public health would be my passion because in Africa we were dealing with so many people in the refugee camps that I felt individual medicine would not really be sufficient for me."

A team who came to Ethiopia to identify an epidemic that had broken out further confirmed this for Valérie. She says: "We were confronted by severe epidemics, cholera, fever as well as malnutrition - people were dying. It was absolutely terrible. There was something else though and we didn't know what it was. So a team came in to investigate. They stayed two weeks with us, found out what it was – typhus – and saved the lives of many people as we then had possible solutions we could apply. This was a refugee camp with 40,000 people. I was impressed. I said 'well, little me and my stethoscope can only treat just a few children', it was then I thought I could be much more useful in public health."

She decided then that epidemiology, surveillance and technical assistance was where she could make a difference – and this is where she went.

She applied to Johns Hopkins University, U.S.A, where she earned her Masters in Public Health in 1988 [her studying continued with a PhD being realised in 1999]. She had also, by chance, previously come across the work going on with TB and the work of The Union. She says: "I thought it was absolutely fantastic, a really convincing example of public health so I became fascinated also with tuberculosis."

Valérie then returned to France to work in public health as an epidemiologist but she also managed to have a part time job in the National Reference Centre for the Surveillance of TB and Atypical Mycrobacterial Infection based in the laboratory of Professor Grosset, a master in the field of TB. She became passionate about TB and helping those with it and continued her TB work when she went to work as an epidemiologist at the European Centre for Epidemiological Surveillance of AIDS.

It was while working here that she met Mario Raviglione, Director of the Global TB Programme at the World Health Organization (WHO) and Hans L Rieder, a world leading expert on the epidemiology of TB at The Union, at a conference. They were impressed with the AIDS surveillance system across Europe. Valérie recalls: "They said to me 'well this AIDS surveillance system in Europe is so successful, it is the first one of its kind, why don't you try to set up a similar system for TB'".

And that is exactly what she did. She set about securing funding, eventually leading the European TB surveillance programme from 1996-2000.

Valerie's innovative system enabled countries across Europe to track data on TB cases and how it was evolving. The surveillance produces numbers, figures and indicators that inspires the action, says Valérie. "We point to where the problems are so that action can be taken."

Valérie has held various roles in epidemiology and surveillance for the majority of her career and throughout has made contributions to The Union, including teaching and training after being introduced through Arnaud Trébucq.

But it wasn't until 2013 that a job came up with The Union that ticked all her boxes. The job would be overseeing a study in Francophone Africa into a shortened nine-month treatment regimen for multidrug-resistant tuberculosis (MDR-TB).

"I decided it was the perfect job because I had followed the work of The Union for many years but then the possibility of a job where I would also really be involved in TB control and epidemiology and work in Africa – well, what more could I ask for!"

The African Francophone study, set up by Arnaud Trébucq, followed an equally successful study in Bangladesh and paved the way for the WHO delivering a ground-breaking announcement earlier this year recommending a shortened nine-month treatment regimen for MDR-TB.

Valérie took charge over a large part of the organisation of the study and the preparation of the data analysis. Her joy at her job is evident.

"It has really been like an adventure. It was very exciting and still is because the treatment and diagnoses of multidrug-resistant cases had not really been in place before. It was so overwhelming to see that people were actually cured and improving so quickly."
Asked how important it is for her to see the data she collates turned into something tangible that helps real people, Valérie is quick to respond.

"For me, to know there are names behind the numbers is essential."

Valérie has been overwhelmed by the outcome of the studies but says there is still more to be done. "What is also important is that we continue to help countries to avoid cases appearing so it is also about helping TB programmes to better control the disease at the beginning to avoid them becoming MDR-TB."

Although Valérie has certainly made her mark in the field of TB she isn't resting on her laurels. She is about to embark on a further 3 year study in Francophone Africa – this time investigating children who live in homes with TB and looking into how to prevent transmission.

So she gets to return to her beloved Africa once more. But what is the draw? She says: "The people have this extraordinary capacity to overcome difficulties in daily life with a great sense of humour and a smile. They face obstacles with tranquillity and strength."

Some of that fortitude has definitely rubbed off on Valerie, who, even after three decades as a doctor, has never lost her drive or vision to save lives through the work she loves.