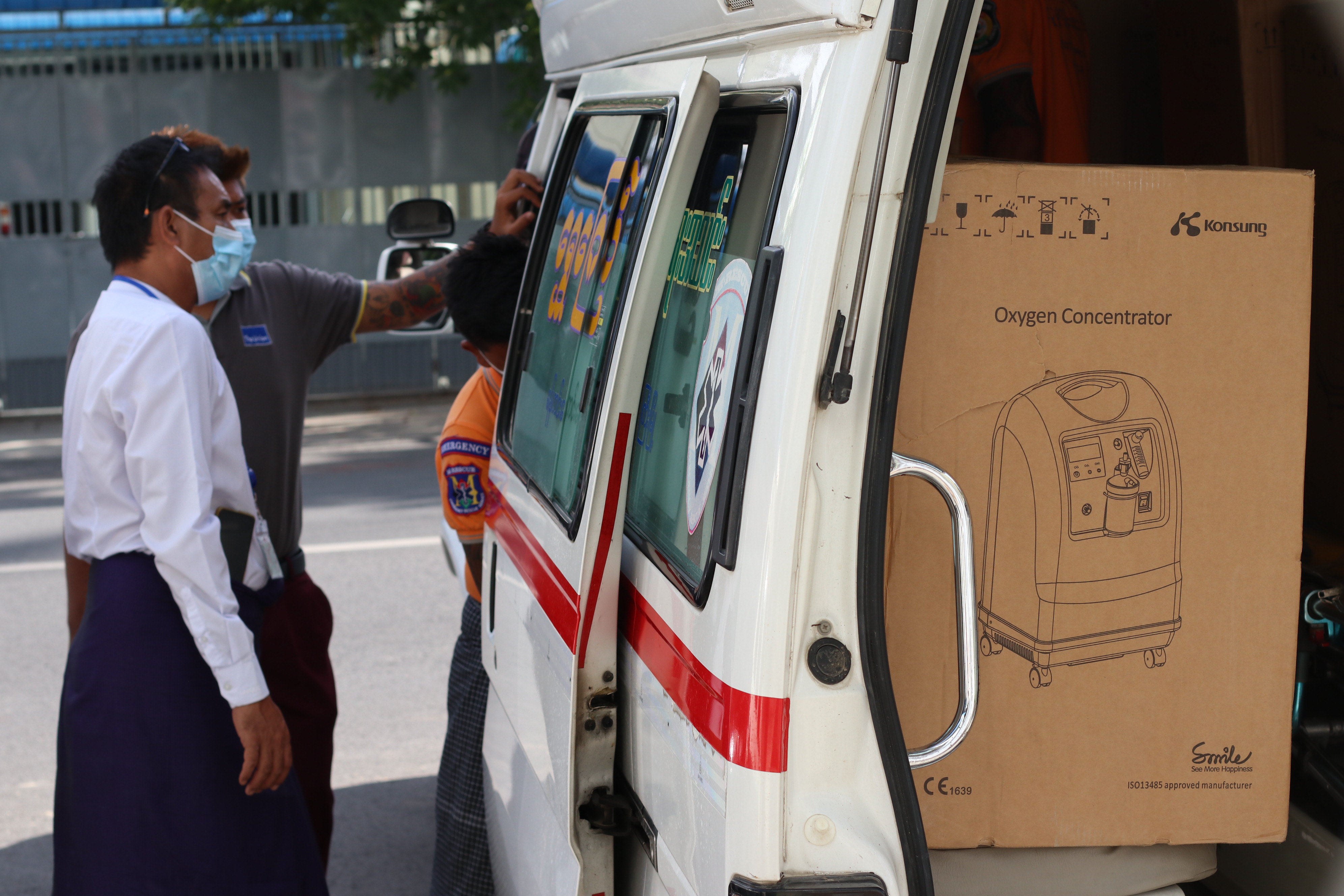 In Myanmar, the COVID-19 third wave hit in early June 2021. The country's health system has collapsed including COVID-19 response mechanisms. A large number of people are infected with COVID-19 due to more transmissible strains, low vaccination coverage and less careful prevention behaviours. Since August 2021, The Union in Myanmar has integrated the COVID-19 Response Programme in 29 Union project sites to prevent the severity of disease, mitigate negative impacts of COVID-19 and to save lives.
The COVID-19 response team is well organised with medical expertise, technical staff, medical doctors and volunteers to conduct three core activities for people who have contracted COVID-19: teleconsultation, oxygen supply, and support community services. The Union has held timely advocacy and orientation training for selected partner community-based organisations (CBOs) ahead of implementation. To accelerate the response activities:
170 oxygen concentrators have been distributed to nine townships and 15 CBOs

Capacity building training has been held

A well-structured surveillance dashboard for systemic recording and monitoring process has been created
The response team hosts the teleconsultation services to ensure timely and effective home-based clinical management and continuous monitoring for health improvement and better outcome. Through coordination and cooperation with CBOs, The Union is able to delivery essential supportive care, such as: oxygen supply, hospitalisation, and home case management.
While the country is in a turbulent situation, people are still suffering from the COVID-19 pandemic and it is more difficult for them to access quality care and treatment. The Union's integration of the COVID-19 Response Programme, with the funding support from the Global Fund, will help prevent mortality and morbidity from COVID-19 among people living with HIV/TB, their families and the community, reducing the negative consequences of COVID-19 in Myanmar.
Charlotte O'Sullivan, Director of The Union Myanmar Office, said: "Saving lives and creating resiliency is currently our main priority and challenging in Myanmar at the moment. The patients living with HIV and TB under our care, their family members, and network volunteers, face extraordinary barriers to not only effective treatment, basic care and support services. COVID-19 has created additional difficulties. So The Union is responding by providing critical access to COVID-19 services to ensure these vulnerable populations receive life-saving support. Our team on the ground is doing everything possible to inspire hope while Myanmar undergoes multiple crises."