"The Union is a leading NGO in Uganda. Many high positions are held by people who have worked for us, and organisations are proud to 'have someone' from The Union."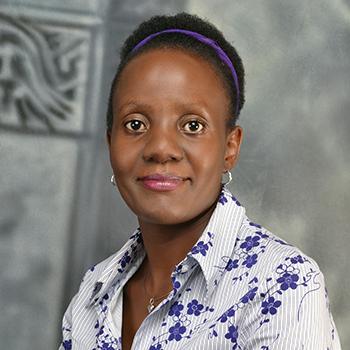 Until Dr Anna Nakanwagi went to work with Uganda's National TB and Leprosy Programme (NTLP) as a public health graduate student, she was not very interested in tuberculosis.  As a field, she thought of TB as "a small thing, a narrow place."  But, at the NTLP, she discovered that TB control entailed understanding not only the clinical management of the disease, but also public health issues at every level from the individual patient to the health system as a whole.  Since then, she says, she has never left the TB world.
A native of Uganda who completed both her medical training and MPH there, Nakanwagi went to work for the World Health Organization in 2004 as a National Professional Officer in TB-HIV. "In Uganda at that time, 6.4 percent of the general population was HIV positive, but the link between TB and HIV was just beginning to be understood," she says.
Her first assignment was to help develop national guidelines for TB-HIV collaborative activities and integrated services, so she quickly became one of the country's experts in this new area.  Over the next three years, she oversaw the implementation, monitoring and evaluation of the guidelines; promoted TB-HIV activities as part of community-based DOTS; and supported national advocacy and social mobilisation campaigns.
In 2007, Nakanwagi joined The Union as Chief of Party for Uganda's USAID-funded TB-CAP project.  The goal of this programme was to decrease the burden of TB among people living with HIV/AIDS and the burden of HIV among notified TB patients. With an annual budget of US$ 2.5 million, she put together a TB-CAP team of 14 people to provide financial and technical support for 11 rural districts and the capital city, Kampala.  
Uganda also participated in the The Union's Integrated HIV Care for TB Patients Living with HIV (IHC) Programme, but with a focus on research.  "Our task was to survey the health services, community and patients to determine the obstacles to integrated TB-HIV care," she says. 
When TB-CAP ended in December 2010, Nakanwagi was appointed Director of The Union Uganda Office charged with developing new plans and projects.  This led to the launch of SPARK-TB, a project funded by the Stop TB Partnership's TB-REACH. 
The Slum Partnerships to Actively Respond to Tuberculosis in Kampala (SPARK-TB) project was designed to build ties between the public health sector and the private clinics located in Kampala's slums. 
"About 60 percent of the population goes first to these facilities, because they are more convenient and friendly than the public health facilities," says Nakanwagi.  Unfortunately, most of these clinics lacked the capacity for diagnosis, so patients with TB were returning home undiagnosed, spreading the disease and coming back much sicker than before. 
Through SPARK-TB, The Union Uganda Office facilitated the initiation links between the NTLP and the clinics and helped them to collaborate successfully. They also offered training to build the clinics' capacity to provide TB diagnosis and treatment and established linkages between community health workers and the private clinics. Today 70 private clinics provide quality TB diagnosis and care with support from the project, and, through the project, some 1,500 TB patients have been detected and started on treatment.
In a strong testament to the success of SPARK-TB, The Union Uganda Office recently received a TB-REACH Wave-4 grant to scale up this intervention in the slums of Kampala and 12 additional large urban centres in the central and south-eastern regions of the country.
"The Union is a leading NGO in Uganda. We have worked here for many years and are very well respected," says Nakanwagi. Many high positions in public health are held by people who have worked for The Union, she notes, adding that organizations are proud and happy to say "they have someone from The Union."
A highly regarded resource herself, Nakanwagi has consulted with the NTLP on their strategic plan and recently served as the lead writer on the country's successful US$11-million Global Fund TB grant.
Going forward, Nakanwagi sees The Union Uganda's role expanding to include more activities focused on child TB and child lung health management and tobacco control. Because The Union has developed so much experience and expertise in TB and HIV, she also thinks the next step will be to become directly involved in delivering patient care. "This approach has been very successful for The Union in Myanmar, and I believe it can be here too."