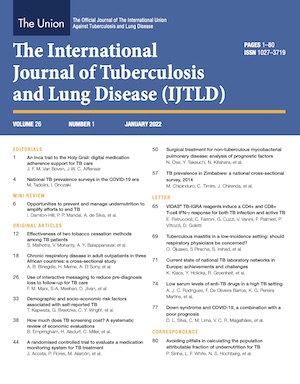 We believe it is vital that the IJTLD continues to adapt and improve how we communicate knowledge about TB and lung health. We therefore wanted to update members of the Union – and our readers – about several positive changes underway at the Journal.
New article formats: Mini-reviews and Clinical standards
Over the past 1–2 years, to encourage more debate within the Journal, we have expanded the Forum section to include Letters and Correspondence and increased the number of Editorials.
We have also recently introduced Mini-reviews to allow authors to quickly describe developments in important areas and provide timely updates for our readers.
We have a comprehensive plan for the IJTLD Clinical Standards in Lung Health, which have attracted interest from the scientific community. The first of these, on Post-TB Lung Disease was published in October 2021, and the second on TB Infection is scheduled for the March 2022 issue. Additional Clinical standards are in advanced stages of preparation and will be published soon.
Author metrics
When determining where to submit an article, authors usually consider two factors: the speed with which manuscripts are processed and the impact factor (IF). In 2021, we were able to almost halve the average time to first decision to 8 days (3 days for immediate reject and 27, following peer review) thanks to the diligence of the Editorial Board. The Associate Editors were able to accomplish this by acting rapidly at each stage of the peer-review process. And naturally, we will continue to publish essential studies as fast-track publications as quickly as possible, https://theunion.org/news/fast-track-journal-articles
Impact factor
By counting article citations and the number of articles published, we can reliably predict that we have already reached an IF > 3.0 for 2021 (to be released in Spring 2022). This is a significant increase, and we can also confidently forecast that the IF will rise even higher next year, to above 4.0.
Editorial Board
In 2021, we introduced the new role of Deputy Editor and we have now re-structured the Editorial Board to ensure better representation by geographical area and even greater diversity. We have also strengthened our coverage of key areas of interest, with a renewed focus on non-TB topics to include respiratory diseases such as COVID-19, asthma, COPD, child lung health and the hazards of tobacco and air pollution. We have also brought on board a group of young and enthusiastic new members, who are committed to being proactive in managing manuscripts.
The IJTLD has a new face
Last but not least, the Journal's print cover has been redesigned with a more attractive, informative layout (which is also available online). Enough with the "Grey Journal"!
If you would like to know more about the IJTLD, please visit https://theunion.org/our-work/journals/ijtld
Thank you for your support!
GB Migliori (IJTLD Editor-in-Chief), Hugh Blackbourn (Publications Director)
PS: If you would like to subscribe to the IJTLD, please contact subscription@theunion.org