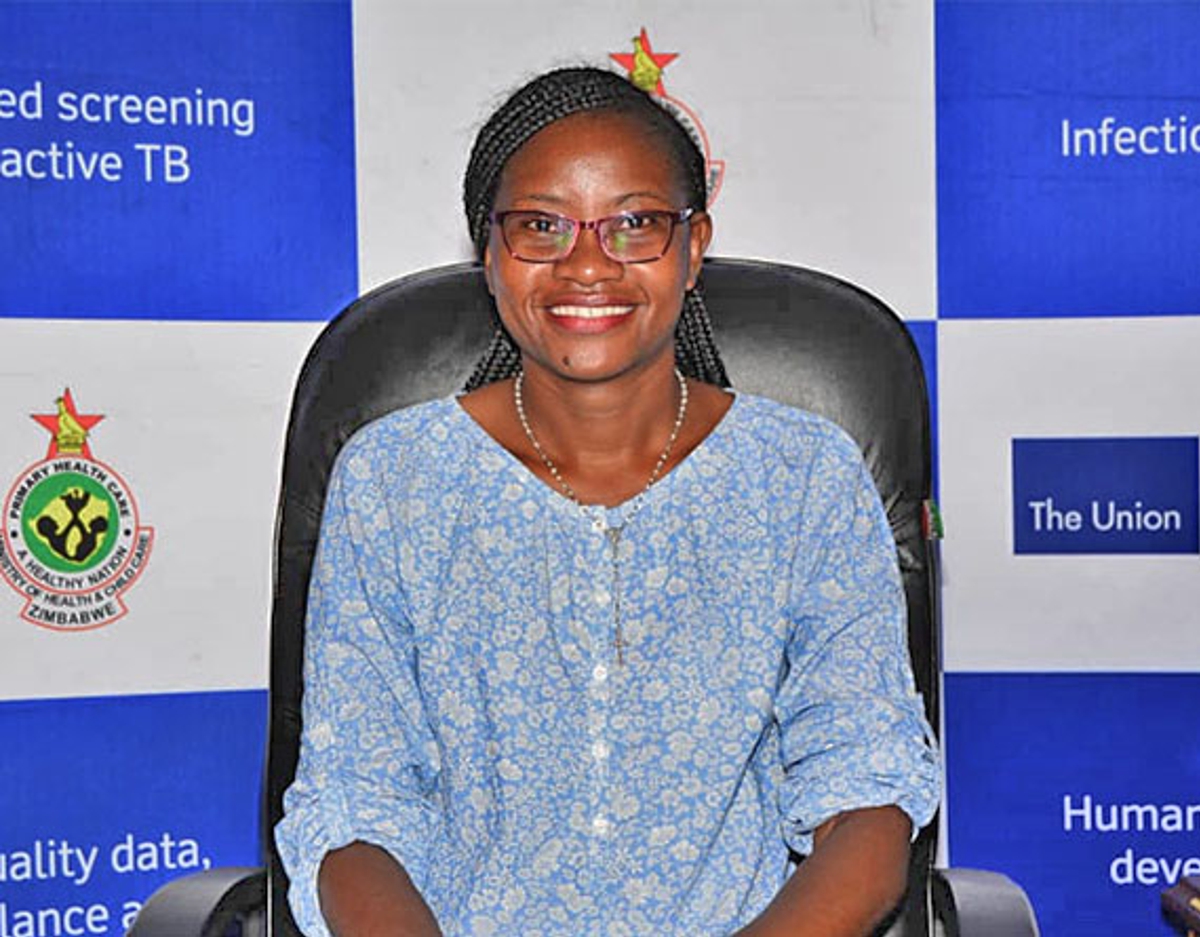 As Communications Officer for The Union's Zimbabwe Office, Paidamoyo Magaya works on the front line of some of the world's most deadly epidemics. The World Health Organization (WHO) cites Zimbabwe as being among the 30 countries with a triple burden of tuberculosis (TB), TB-HIV co-infection and drug-resistant TB (DR-TB). In addition, approximately 1.4 million people are living with HIV, with HIV co-infection present in approximately 67 percent of TB cases. This is not a role for the faint hearted. 
Paidamoyo explains, "As well as our TB being largely HIV driven, we are experiencing the growing threat of DR-TB. The level of stigma associated with DR-TB particularly, is extremely high amongst communities and healthcare providers, largely due to low awareness and knowledge. There has been very little investment or support for advocacy, communication and social mobilisation activities, which has had an impact on tangible results – and ignorance prevails as a result."
Paidamoyo joined The Union in 2015, after periods working for the Ministry of Home Affairs, the Zimbabwe National Network of People Living with HIV (ZNNP+) and Population Services International. She brings to the role an impressive array of university degrees and post-graduate qualifications in communications, media relations and public relations, with ambitions to study for more. "I hope to enrol for a PHD in communications in the near future," she says. An earlier stint working for the national broadcaster – Zimbabwe Broadcasting Corporation – would also later prove invaluable.
These combined experiences make her acutely aware of the issues involved in planning, coordinating and implementing TB programming in Zimbabwe. But her commitment has also been shaped by personal experience.
"I lost a brother to cancer after some wrong decisions were taken due to lack of awareness and knowledge. Most of my relatives were dying due to HIV and related illnesses and I realised I needed to help, not just my family, but the communities to know more about these diseases and take necessary steps should they fall ill. When, in 2009, I started working on advocacy and communications for ZNNP+, I knew immediately that I'd found my calling."
When Paidamoyo saw that The Union was advertising for a Communications Officer, she knew this was her next logical move. "The Union is well known for its technical expertise and professionalism and I had often admired the passion and commitment for TB that I'd seen from their team during national planning meetings. I was impressed with their innovative approaches which were well researched and supported by hard evidence. Their greatest attribute was their humility, especially when they interacted with people from different backgrounds. They never made anyone feel out of place. I knew that by joining such a vibrant team, not only would I learn a lot, but I would have a platform to bring change to the TB response."
Paidamoyo's immediate aims on joining The Union were to establish an effective communications operation; use her existing media relations experience to place The Union and TB on the media agenda; use her links with parliament to advocate for political commitment to support TB; and create a strong, recognisable brand for The Union through participation at partner and national events. But when Paidamoyo joined The Union's Zimbabwe team, there was little in the way of a communications department or even a focal person for this and other related activities.
"I was starting from scratch. I needed to come up with interventions and activities that were evidence based. I coordinated the Knowledge, Attitudes and Practices survey on TB in communities whose findings informed the development of a communication strategy which is currently guiding our work till 2020. I introduced a yearly newsletter bulletin which is a platform to share our story with local and international communities."
On a day-to-day basis, her work involves working closely with the National TB Control Programme's communication department and prioritising weekly mass media campaigns to raise vital awareness and knowledge of HIV, TB and associated issues such as stigma and the impact of diabetes mellitus co-infections too. For the past three years, this work has included the development of a media mentorship programme to promote factual and in-depth reporting on TB-HIV and diabetes. Mentees are selected from a pool of health journalists in both public and private media. Mentors are recruited from news editors and producers, a deliberate move to obtain buy-in for the TB programme which, traditionally, has been a hard sell.
Selected mentees are mentored for six months and have a target to produce at least one feature article per month. Representatives come from broadcast, on-line and print media, scanning national, regional and community media houses to increase coverage.
Paidamoyo says, "So far, we have trained the national broadcaster, Zimbabwe Broadcasting Corporation, as well as major media outlets such as Zimpapers, Alpha Media Holdings, Modus Media, Associated Newspapers of Zimbabwe and AB communications. We also work with the Zimbabwe Union of Journalists which has a membership of more than 800 journalists."
Crucial to the success of the scheme is inviting health journalists to observe the programmes in action which also helps in keeping communities up to date when they access the resulting features. Media coverage has been positive and well-informed. "Last year we tracked over 60 articles in the media on TB. We have shifted perception of TB from a hard-sell story to a necessary subject that needs to be talked about. I love it when people walk up to me and say that they heard about TB or The Union on the radio. Before I joined The Union, there was not much coverage of TB, except on national events such as World TB Day. Through the introduction of media health talks, the mentorship programme and media tours, the programme is now visible - and so is The Union as a key partner in service delivery."
With the first ever United Nations High Level Meeting (UN HLM) on TB fast approaching (26 September, New York), this kind of media-generated awareness on the impact of TB and the work of the TB community in mitigating its effects has never been so vital. Equally important is galvanising world leaders to commit to both attending the HLM and coming prepared to make concrete, accountable commitments to accelerate the end TB goal.
Paidamoyo also cites her work with parliamentarians as critical to advancing investment and resources at country-level.
"Since our maiden advocacy meeting with members of parliament in 2015, more than a third (140 out of 350) have signed the Barcelona Declaration to End TB, including the former Vice President and the current First Lady of Zimbabwe. In 2016 I was instrumental in establishing the National TB Caucus whose chairperson was elected to co-chair the Africa Caucus. In 2017 I coordinated the maiden participation of MPs at the World TB Day commemorations where 13 members were publicly screened for TB-HIV and diabetes."
She adds, "In terms of funding, the TB programme relies more on donors, with little coming from the domestic coffers. I believe that, with the right political will, this can change dramatically. And with stigma around the disease still being too high, the need to engage respected MPs who can champion the programme in their respective constituencies is now a fundamental aim for us."
For Paidamoyo, serious political engagement to end TB globally is no longer negotiable. "It has to happen. I pray that the leadership in Zimbabwe will take their responsibilities seriously and make commitments to improve the health situation here. I have a dream where one day everyone will know about TB and will not be afraid to get screened or treated."
For her personal ambitions, Paidamoyo says she wants to grow and become one of the leading health communications experts in Zimbabwe and beyond. "I'm privileged to be a part of The Union because it gives me a platform to grow professionally. I have benefited from the International Management Development Programme courses and I was privileged to participate in the 48th Union World Conference in Guadalajara last year where I had a poster presentation on political commitment in Zimbabwe."
When the role has its particular challenges – Paidamoyo cites often working around the clock to achieve results – she takes great strength from The Union's local team who are like  'a big family' – and also her mother, who is her 'biggest fan'. "She sees the best in me, even in instances when I feel terrible. She always tells me how proud she is that I work to save lives. The only time she is not supportive is when I sing in our church choir. Mum always, without fail, tells me how horrible my voice is!"
Find out more details on Zimbabwe via the WHO country profile.