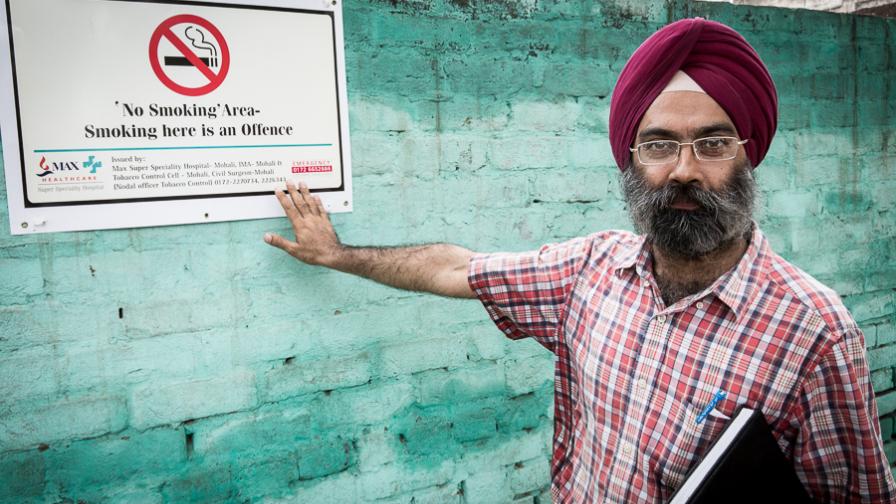 In this webinar, hear from tobacco control implementation experts who share their experiences of achieving high compliance with tobacco control laws, through real-world case studies. Ask questions and learn how to use these experiences to improve compliance rates.
The Union's Tobacco Control Implementation Hub will provide the crucial implementation and enforcement resources that support this work. Launching during the webinar, this resource hub is a vital tool for all those working in tobacco control, through practical tools, guidance, evidence, and expert support.
​​​​​​​Webinar Objectives
Featured Speakers
Dr Maurice Mulcahy - Chief Regional Environmental Health Officer, Health Services Executive Ireland
Ms. Wang Ling - Head of Communication and Education Division (Tobacco Control Office), Shenzhen Health Commission
Dr Minhaj us-Siraj - Health Director, Directorate of Tobacco Control, Ministry of National Health Services, Regulation and Coordination Pakistan
Speaker bios
Dr. Maurice Mulcahy
Dr. Maurice Mulcahy is a Chief Environmental Health Officer with the Health Service Executive in Ireland. He has over 30 years' experience in leading regulatory/inspection services in the delivery of key public health policy priorities including tobacco control. Maurice was a recipient of the UK Chartered Institute of Environmental Health (CIEH), Presidents Award in 2004, for his outstanding contribution to and excellence in the field of Environmental Health. This was with special reference to his work relating to the smoking bans in both the UK and Ireland. In 2007 he was awarded the inaugural Tom Power Medal by the Office of Tobacco Control, for his commitment, leadership and vision in defeating the tobacco epidemic in Ireland. Maurice holds an MSc in Occupational Safety from the Robens Institute, University of Surrey and was awarded a PhD by NUI Galway in 2010 for his research investigating the Environmental Health perspectives of tobacco control, with a particular focus on the Irish smoking ban. He is as an adjunct lecturer with the Centre for Health from Environment (CHfE), Ryan Institute, NUI Galway, Ireland and Visiting Professor at K U Leuven, Belgium.
Ms. Wang Ling
Wang Ling is Head of Communication and Education Division (Tobacco Control Office), Shenzhen City Health Commission. Since 2017, Shenzhen organized 21 rounds of 119 tobacco control campaigns and issued domestic "first case" tickets for: sales to minors; smoking in internet bars; and e-cigarettes. The Shenzhen Health Commission WeChat, operated with her guidance, has been ranked first in the annual list of Shenzhen governmental WeChat accounts, and included in the "top ten influential accounts of healthy China new media". The video " Drama Queen Nurse" has 50 million views and is considered "phenomenon level" new media work in the domestic medical industry.
Dr. Minhaj us-Siraj
Dr. Minhaj us Siraj is currently serving the Federal Government of Pakistan, Ministry of National Health Services, Regulations & Coordination, Islamabad as Joint Executive Director at Pakistan Institute of Medical Sciences in Islamabad. Prior to his deployment to the COVID-19 response, while posted as Deputy Director General (Health), he was the Country Focal Person for "imPACT" of International Atomic Energy Agency (IAEA) for Cancer Control. Dr. Siraj has over 10 years of experience in tobacco control policy planning and implementation. Hallmarks of his work include robust implementation of local tobacco control laws, declaring major city public parks smokefree, establishing the local taxation of tobacco control vendors through mandatory licensing, and ending sheesha use across Pakistan via Supreme Court decisions. In 2013, Dr. Siraj spearheaded the successful, BI-funded Smoke Free Cities project in Islamabad, which is now being replicated in 11 other major districts across Pakistan. The Smoke Free Islamabad Project achieved 80% compliance of described targets for tobacco control within two and a half years and the model is now being replicated in 11 major districts across the country. Pakistan's unique, WHO-supported model of having Anti-Narcotics and Tobacco Control forces join hands to reduce tobacco consumption is also the result of Dr. Siraj and his team's relentless efforts. Overall, Dr. Siraj's tobacco control work has continually revolved around developing a strong network of energized forces at local, national, and international levels. Dr. Minhaj started his professional career as an Ophthalmologist.