Project Axshya was established in 2010 with support from the Global Fund Grant, to improve access to quality tuberculosis (TB) care and control through a partnership between the government and civil societies. The project supports India's National Tuberculosis Elimination Program (NTEP) to expand its reach, visibility and effectiveness. The project is being implemented through a network of five sub-recipient partners, local non-governmental organisations, community-based organisations and community volunteers called Axshya Mitras to increase awareness of TB, facilitate TB testing and transport sputum samples.
Active case finding
An innovative intervention to increase awareness of TB, identify people with TB and link them to services, through home visits by trained community volunteers. The focus was on vulnerable and marginalised populations often residing in areas with poor access to health services (e.g. slums, tribal habitats, migrant settlements and other difficult to reach areas).
1,989,263 households reached
District Hospital Intervention
Community volunteers were placed in the outpatient departments of busy hospitals (e.g. district hospitals, not-for profit hospitals and medical colleges) to help fast track access to TB services.
139 hospitals implementing the intervention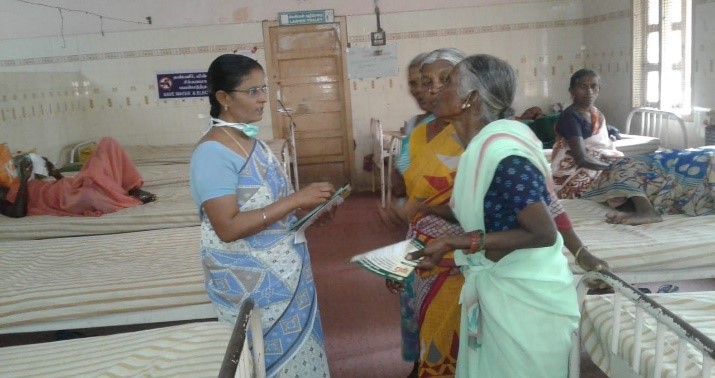 Active Community Surveillance
Volunteer led observation of people with presumptive TB and contacts of people with TB after the completion of active case finding efforts. The community volunteers help link these people to diagnostic and treatment services. They also follow-up with all people with TB to support treatment adherence.
2,169 active community surveillance units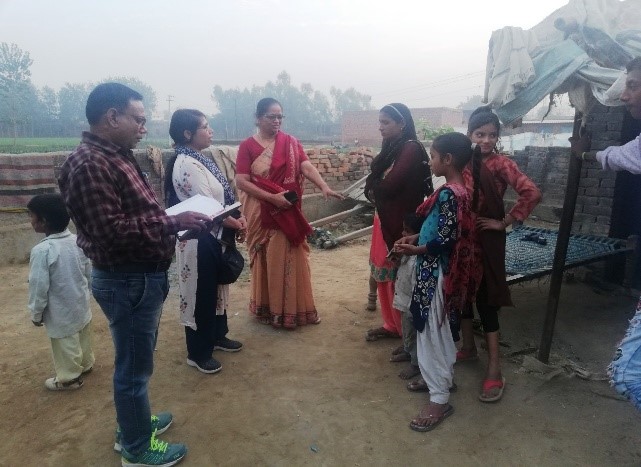 Health Camp
The delivery of general medical services provided through medical officers from the NTEP or private qualified providers and paramedical staff.
575 health camps conducted
 
Empowering people with TB
Project Axshya empowers people with TB by sensitising them on their rights and responsibilities through a patient charter, which provides information about prevention, treatment and care processes. It also helps build a mutually beneficial relationship between people with TB and healthcare providers.
6,988 people with TB sensitised, of which 3065 (44%) were women
 
| | |
| --- | --- |
| Indicator | Achievement |
| Number of people with presumptive TB identified | 270,829 |
| Number of people with presumptive TB tested | 236,136 |
| Number of people diagnosed with TB and notified (all forms) | 40,809 |
| Number of TB cases notified among KAP (subset of all notified TB cases) | 39,566 |
| Number of people with TB initiated on treatment | 35,774 |
| Treatment success rate | 75% |

Pilot project on latent TB infection
In July 2020, the pilot was implemented in three districts of Maharashtra (Sangli, Satara and Aurangabad) with following objectives:
Generating evidence regarding latent TB infection testing and treatment among adult and adolescent household contacts

Development of a programmatic management of TB preventive treatment model and tools

Increase in TB preventive treatment coverage among household contacts.


 
The iDEFEAT TB Project is a flagship program of USAID that provides support to the National Tuberculosis Elimination Program (NTEP) through technical assistance, capacity building, e-learning, bridging gaps with human resources, and other critical needs. The project's overall goal is to strengthen India's TB-related institutions that focus on programmatic and clinical management of people with TB and drug-resistant TB (DR-TB), contributing to the achievement of India's National Strategic Plan and United Nations High-Level Meeting on TB targets.
The project was awarded by USAID on 12 August 2020 and will run until 11 August 2024, with a budget of 15 million USD. Consortium partners include IQVIA, EMPOWER, FMR, CETI, ECHO and KNCV.
Impact in 2020:
Strengthening around 600 TB and DR-TB Care Institutions to support NTEP progress towards attainment of UNHLM-TB targets for India

Best practices and evidence documented and incorporated into policy and practices

Lessons learned, successful models and initiatives disseminated regionally and globally
Corporate TB Pledge
The Corporate TB Pledge (CTP) program is a joint initiative of the Central TB Division, Ministry of Health and Family Welfare, Government of India and USAID in collaboration with The Union, with the objective to develop a shared TB vision, in alignment with PM Narendra Modi's vision of eliminating TB in India by 2025.

The Corporate TB Pledge (CTP) initiatives in 2020
Signing of Letter of Intent (LoI) with Federation of Kutch Industries Association (FOKIA) and process initiated to sign LoI with Indian Tea Association (ITA)

Launch of TB Free Campaign at Transhipment locations by Apollo Tyres

Presentation of Mylan and BD's TB /DR-TB project proposals to the Central TB Division
The CTP Secretariat facilitated the development and presentation of projects by two CTP partners namely, Mylan and BD to the CTD, as part of promoting public-private partnerships for TB and DR-TB. A new project was approved and initiated by CTP partner, GAIL, with extensive technical assistance by the CTP Secretariat. CTP also signed a Letter of Intent (LoI) with Federation of Kutch Industries Association (FOKIA) as part of mobilizing new CTP members through business associations.
During the period, CTP also organised a webinar on Partnership for Action against Tuberculosis (PAcT) with Assam as focus State. The webinar organised with the aim of mobilising more corporates to join the Corporate TB Pledge, had participation by more than 60 participants from over 30 companies.
On an average, 20,467 persons were screened for TB and 657 were tested for TB per month during the reporting period. Notably, over 40,000 persons screened for TB, 52 TB patients identified and 51 put on treatment under the campaign on TB Free Transshipment Locations organised by Apollo Tyres.