On 5 and 6 November 2020, a High-Level Dialogue to Assess Progress on and Intensify Commitment to Scaling Up Diagnosis and Treatment of Paediatric HIV and TB in Children Living with HIV (also known as Rome 5) was convened by His Eminence Peter Cardinal Turkson, Prefect of the Dicastery for the Promotion of Integral Human Development, along with the President's Emergency Plan for AIDS Relief (PEPFAR), the Joint United Nations Programme on HIV/AIDS (UNAIDS), the World Health Organization (WHO), the Elizabeth Glaser Pediatric AIDS Foundation (EGPAF), and in collaboration with the Stop TB Partnership and Faith-Based Organisations.
The purpose of this Dialogue was to identify bottlenecks in the development, introduction, and scale-up of optimised diagnostics, preventive therapy, and treatment for tuberculosis (TB) among children living with HIV, as well as further steps to improve access to paediatric HIV diagnostics and optimal ARVs. Previous High-Level Dialogues have resulted in a series of "Rome Action Plans" comprised of the commitments taken by the participants in attendance, and attendees of this year's meeting will agree to their own Plan of Action.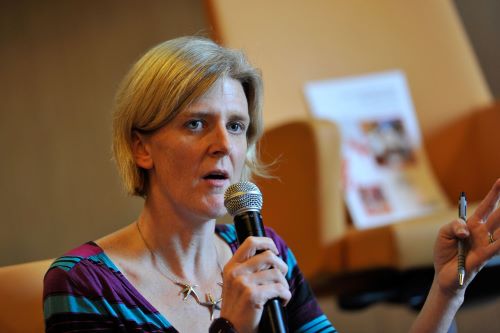 The Union's Director of TB, Dr Grania Brigden, was in attendance and made the following intervention:
Thank you for the opportunity to participate in Rome 5.
No child should die from TB. We can do much more to find children who have been exposed to TB and keep them from getting sick and dying. We know that children have a high chance of surviving their TB if they can access treatment and care, nine out of 10 children who die from TB are the ones who did not get access to treatment.
The Union considers the full age range of children with adolescents included as well as they experience considerable challenges in access diagnostic and care services. When The Union talks about children, we mean all those under the age of 15.
The immediate concern is that the COVID-19 pandemic is set to eliminate many years of progress against TB and HIV. And we know that children's lives will be lost.
We have to do everything we can to prevent this.
Children contacts should be screened for TB, regardless of their status. If they are sick, they should receive TB treatment. If they are not sick, they should receive a course of preventive therapy in child friendly formulations and where possible as fixed dose combinations, this is all the more important for children living with HIV. The importance of preventive therapy is particularly important in children given their risk of developing TB disease if they do not access preventive therapy.
The diagnostics for TB do not work well for YOUNGER children and we support the commitments made to develop child friendly, ideally sputum free diagnostics. In the meantime, The Union has shown in projects in Africa that local health workers can use clinical symptoms to see if children, with or without HIV, are sick with TB and then provide them with appropriate care. In Uganda we have implemented this model with the ministry of health and local health authorities.
And the results are very positive. When we started, only five percent of children exposed to TB were getting preventive therapy. In just two years, it increased from five percent to 74 percent.
We tested a similar approach in West Africa and had similar results and we continue to work with ministries of health to scale up these successful approaches.
So it is feasible. And if we made sure similar steps were taken everywhere, it would end the epidemic of TB in children.
The Union commits to continue to support countries to prioritise the identification, diagnosis and scale up of TB preventive therapy, including in children living with HIV via The Union's Sub Saharan Africa Centre of Excellence for Child and Adolescent TB and in countries where we are working with National TB programmes.
We commit to support the scale up of access to priority formulations and diagnostics and take steps to facilitate their wider roll-out, including by performing operational research via The Union's Centre of Operational research, and ensuring The Union's existing paediatric publications and training tools are up to date and disseminated widely to promote the highest standard of care for all children with or at risk of TB
The Union commits to advocate for the rights of all children, including those living with HIV, to receive TB care and treatment and promote a human-rights based approach to TB. All people have a right to live free of TB, no matter their age, no matter their social status.
The Union commits to speak up for children and urge governments to ensure that all children have access to the latest formulations and models of care for TB prevention and care.
I hope that we can all work together to reduce stigma and discrimination that families with TB face, and which stops children from accessing the care that they need. Stigma is a horrible barrier and affects TB and HIV.
The Union is a willing partner, and we will be happy to work with others on these priorities.
In the meantime I urge you to please read our call to action on child tb at childtb.theunion.org