The Union joins the World Health Organization and the Tuberculosis (TB) community to call for urgent actions to be taken by governments and donors to step up the momentum to rapidly enhance coverage of TB preventive treatment for those in need.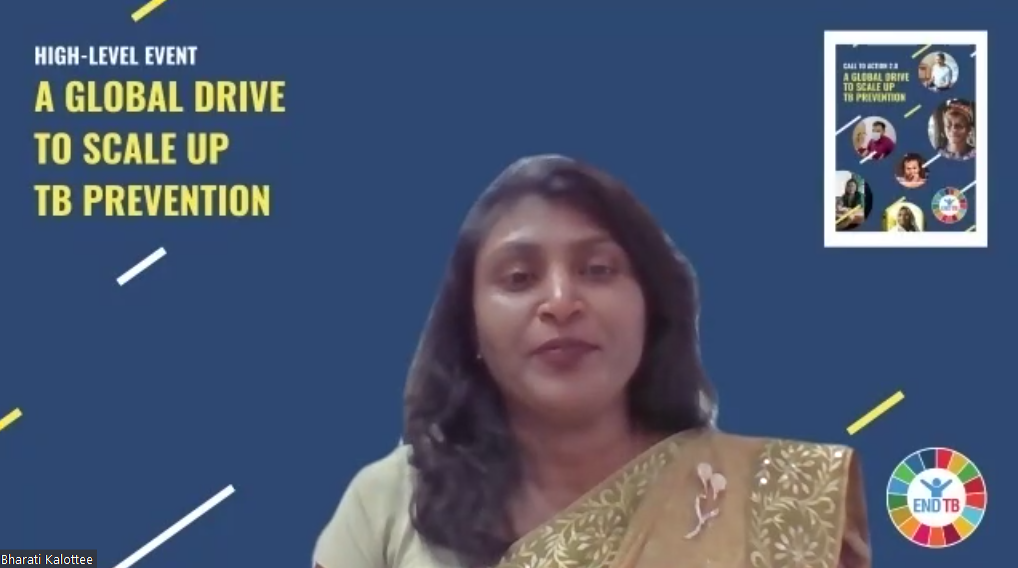 Today, The World Health Organization organised a special high-level event to discuss key actions needed at a global and country level to scale up TB prevention strategies and drive progress towards achieving the 2018 UN High Level Meeting target on TB preventive treatment. The target called for at least 30 million people most at risk of falling ill from TB receiving preventive therapy by 2022. Only 6.3 million of that 30 million had been reached by 2019.
Dr Bharati Kalottee, TB survivor and Project Director of Axshya Plus at The Union, gave one of the opening speeches. During Dr Kalottee's powerful speech, she said:
"Today I am not speaking just as a doctor but as one of many who have suffered the difficult experience of TB. When you develop TB and MDR-TB you fall prey to the same anguish as any other human being who wants to survive and protect loved ones from the same fate. They say that suffering makes you stronger. But for us who survive, any such strength comes at a great cost.
"I urge all the dignitaries and partners at this event today to please keep the human side of TB constantly in their mind. For me the main message of today's event boils down to this: prevent TB and take bold actions to roll back this disease."
Dr Kalottee added: "Let us join hands and resolve to cut down suffering."
President and Interim Executive Director, Professor Guy Marks also declared The Union's commitment to the call to action. Professor Marks stated: "The Union is committed to ending tuberculosis (TB). This requires an urgent scale up of TB prevention efforts by governments and all partners. Easier access to treatment and active detection in the community are crucial to this - no one can be left behind. Only then can we achieve a healthier world for all, free of TB."
The Union has joined forces with WHO, civil society and other partners to make a strong Call To Action for access to TB preventive treatment to those who need it, urging governments to undertake the following actions over the next 18 months:
Strengthen and finance TB preventive interventions adequately, as a sound investment and in recognition of TB prevention as a human right and entitlement under the rights to health. Achieving the UN-HLM targets for TB preventive treatment alone requires an annual budgetary increase by one third of the US $6.5 billion currently allocated globally for TB activities each year. This would still be well below the US $13 billion considered necessary to fund all TB programme components adequately each year worldwide

Expand outreach by giving TB preventive treatment to an average of three people in contact with each person with bacteriologically confirmed TB

In order to achieve the UN-HLM target on TB preventive treatment, fully activate systematic screening to find more people with TB and in need of TB preventive treatment. In addition to people with TB presenting to healthcare services, six million more can be found by active TB case finding among household contacts, residents of informal settlements and other high-risk populations