All twenty-seven cities and districts in West Java, Indonesia's most densely populated region, now prohibit smoking in all public places, workplaces, and public transport. As a result, nearly 49 million people are protected from the harms of second-hand smoke.
According to the Basic Health Research Report 2018 (Riskesdas), 27% of West Java's population are smokers. Over 75% of the population age ten and older are exposed to secondhand smoke in enclosed places (public places, work places, homes).
The Union works in more than 300 cities to establish and implement smokefree policies through the Indonesian Mayors' Alliance, the Ministry of Health, the Ministry of Home Affairs, 30 civil society organizations, and 10 leading universities. In Bogor City, West Java, The Union's partnership with civil society organizations—"No Tobacco Community (NOTC)—helped build local mayoral leadership, local government technical and legal capacity, policy advocacy, and prevent tobacco industry interference in smokefree policy development and implementation.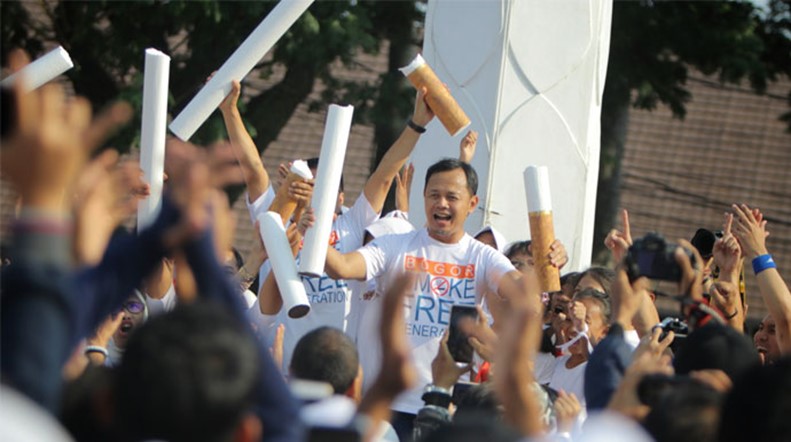 Tasikmalaya Regency was the last jurisdiction to adopt 100% smokefree policies. Working in partnership, The Union and NOTC built awareness among and capacity of all local stakeholders—through focus group discussions, cross-sectorial trainings, workshops,  one-to-one meetings with Regent and local policy makers, and support from local student organisations; these actions eventually led to the signing of the regent regulation.
 "It is essential to create an environment in which all local stakeholders including mayors, regional representatives, civil police and other government departments have a comprehensive understanding of the best practices of tobacco control and strong commitments," said Bambang Priyono, NOTC Director. "Community support from youth, religious leaders and the media is also critical."
West Java Province has also benefitted from the leadership of Bogor City Mayor Bima Arya Sugiarto, who is also Co-Chair of Asia Pacific Cities Alliance for Health and Development (APCAT). A tireless tobacco control champion,  who faces strong opposition from the tobacco industry and its front groups, his work resulted in  Bogor City banning all outdoor advertising by 2015; the city was also the first to ban display of tobacco products at the points of sale in 2017 and ban the use of electronic cigarettes, shisha and other alternate tobacco products in 2018.
Bogor City's success has inspired others in West Java province to take action. Mayor Bima conducts one on one meetings with other mayors to build political commitments for smokefree, frequently speaking at workshops and events to share Bogor's story. The Bogor City Health Department and NOTC frequently provide technical assistance and policy development tools to other jurisdictions around Indonesia.  Data on Bogor City's advertising revenue and public opinion polls are disseminated throughout the country.
"The Union applauds the success in West Java," said  Tara Singh Bam, Regional Director, The Union "We will continue to collaborate with local governments to strengthen implementation and enforcement and ensure the sustainability of local smokefree policies.