Bangladesh mayors commit to preventing tobacco-related diseases and deaths at The Bangladesh Mayors' Summit for Tobacco Control and Disease Prevention in Cox's Bazar.
During the two-day summit, 23-24 September, 18 city mayors decided that strong steps will be taken to implement tobacco control laws and local government guidelines. Mostafizur Rahman, Mayor of Rangpur City Corporation, chaired the summit.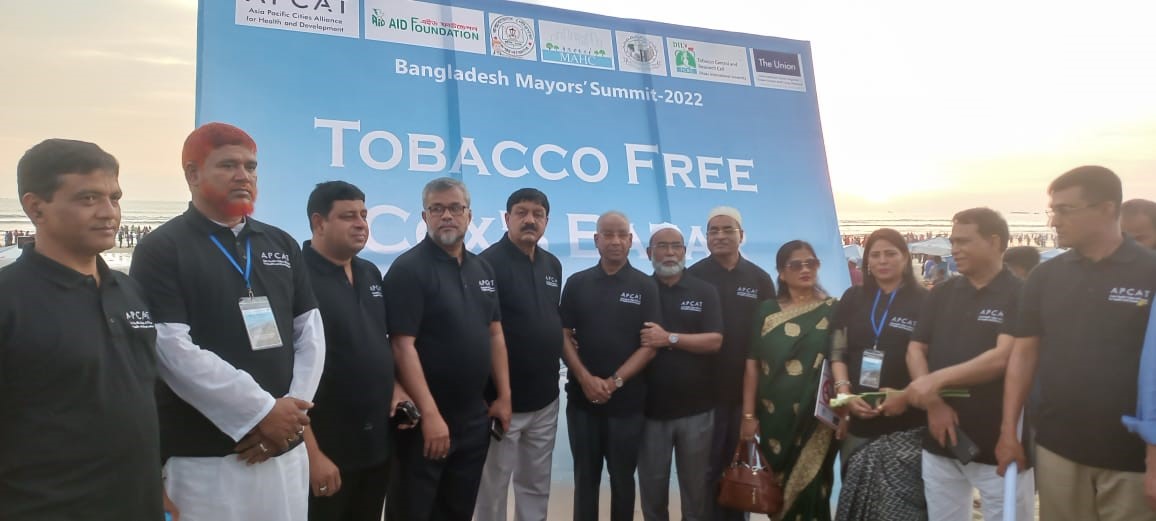 The Mayor Alliance for Healthy Cities, Cox's Bazar Municipality, Dhamrai Municipality, Tobacco Control and Research Cell of Dhaka International University and Aid Foundation jointly arranged the event, with the technical support of The Union and Asia Pacific Cities Alliance for Health and Development (APCAT).
In his virtual address, MA Mannan, Planning Minister, shared that tobacco use is among the top public health challenges – it kills nearly 126,000 people in Bangladesh every year, which is 13.5% of all deaths in the country.
Dr Gan Quan, Director of Tobacco Control at The Union, specified the local government's critical role in implementing tobacco control guidelines and enforcing the tobacco control laws, such as the smoke-free and tobacco advertising, promotion and sponsorship (TAPs) ban provisions.
Fahimul Islam, Joint Secretary (on-lien) and The Union's Consultant, highlighted the shortage of funds required to ensure sustainable tobacco control initiatives.
Mujibur Rahman, Mayor of Cox's Bazar and newly elected chair of the Mayor Alliance for Healthy Cities, stated that tobacco is the leading threat to public health. To achieve the Hon'ble Prime Minister's goal to make the country tobacco-free by 2040, he committed to advance the movement by expanding the alliance membership from the remaining districts.
Ministry of Local Government's tobacco control guidelines apply to all the urban and rural institutions like municipal corporations, other municipalities, Zila Parishad and Union Parishad. The guidelines aim to protect people from the harms of tobacco and are directed to improve tobacco control law enforcement, build public awareness, allocate funds for tobacco control and limit tobacco products availability. The Union is working and extending support to the ministry, the National Institute of Local Government, and some cities, including the municipal corporations of Dhaka, Khulna, Rajshahi and Barisal, to implement these guidelines.
Other dignitaries who attended the summit were: Barrister Shameem Haider Patwari, MP; K.M. Tariqul Islam, Director General of NGO Affairs Bureau; Md. Mamunur Rashid, Deputy Commissioner Cox's Bazar; Dr Syed Mahfuzul Haque, National Professional Officer, WHO; Md Khairul Islam, Additional Secretary, LGRD Ministry; Hossain Ali Khandker, Additional Secretary and Coordinator, National Tobacco Control Cell of Health Ministry.