Subrat Mohanty, from The Union South East Asia Office, relishes the opportunity to reach out to the community and give people with tuberculosis (TB) a voice.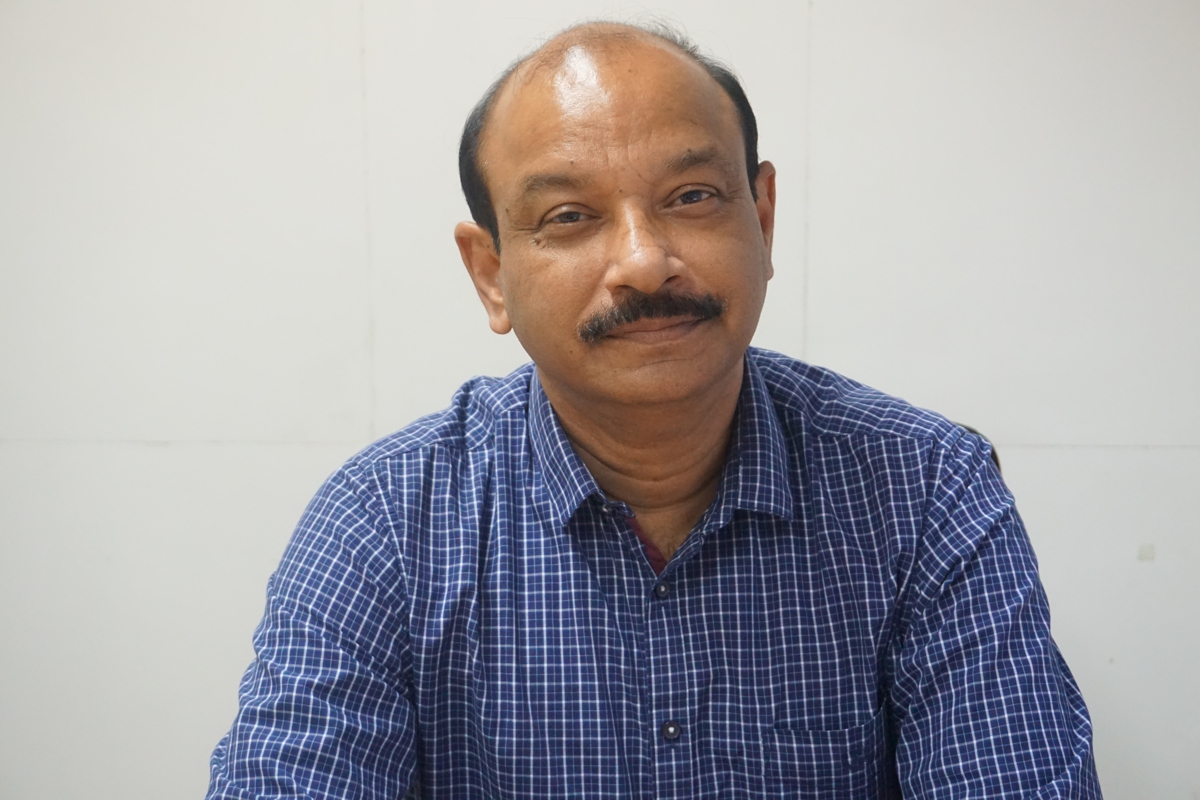 Subrat Mohanty, from The Union South East Asia Office, relishes the opportunity to reach out to the community and give people with tuberculosis (TB) a voice. Having joined The Union more than ten years ago, Subrat is now Project Director for Project Axshya, and also oversees the STREAM trial in India.
Funded by the Global Fund, The Union's Project Axshya (meaning 'free of TB') with its partners, NGO network and community volunteers in 128 districts in India, is a unique civil society initiative improving access to quality TB care and support, especially for marginalised populations.
Project Axshya launched in 2010. Subrat explains the project's key points: "Axshya supports the Government of India's RNTCP to expand its reach, visibility, and effectiveness. In the last seven years, Project Axshya has emerged as a key partner in supporting the RNTCP by leveraging greater interest and community participation in TB care and control. A key feature has been the project's innovative interventions to intensify outreach to those with the greatest difficulty in accessing TB diagnosis and treatment. Project Axshya uses creative solutions to expand access to TB information and services, increase the accountability of service providers and empower communities."
Community involvement is something that animates Subrat. He is clear that "community engagement has been a focus of Axshya since the beginning of the project, and it continues to be an integral part of each and every activity. The project's focus on capacity building and the involvement of local NGOs and community-based organisations is critically important in TB control."
The scale of Project Axshya has been substantial, as Subrat highlights: "Since April 2010, the project has contributed to creating a network of NGOs and community volunteers, notified over 150,000 TB patients who were put on treatment, reached out to over 15 million households through active case finding, formed over 250 District TB Forums, sensitised over 120,000 TB patients on their rights and responsibilities, and engaged 25,300 rural health care providers.
"The Union reaches out to those who have been previously unreached, giving a voice to vulnerable and marginalised communities."
Subrat's philosophy and experience make him ideally placed to lead Project Axshya, having become involved in community development work as soon as he finished a post graduate qualification in Sociology from India and a Post Graduate course in Integrated Regional Rural Development Planning from the Development Study Centre in Rehovot, Israel. 
"I started my career with a drinking water and sanitation project in an inaccessible district of Odisha state, on the Bay of Bengal, providing villagers with safe drinking water and sanitation. After five long years we successfully facilitated the installation of 625 handpumps to provide safe drinking water to the rural village community."
After the project was completed, Subrat chose to stay in the remote hilly region for a further four years, working with the tribal and indigenous community on a livelihood development programme. A subsequent role with a leprosy elimination project shifted Subrat into the field of public health, before he started work scaling up the RNTCP in the state of Odisha. That year, 1999, saw the start of his career in TB, which has remained a constant theme in his working life since. A relocation to Delhi, and two further programme management roles, marked Subrat's route to joining The Union at the beginning of 2009.  
"On joining USEA, I was handed the responsibility to manage a small USAID 'jump-start' project to coordinate the civil society partnership initiative for TB in India. That was a historic step in the civil society movement for supporting TB programmes in the country. Although the initial project was only small, it became part of Global Fund grants later and continued for another five years until the partnership became a registered entity as the Partnership for TB Care and Control (PTCC) in 2013. In a short time, PTCC had become a hub for disseminating information, creating visibility for India's national TB programme, responding to TB-related challenges and providing support to various stakeholders. The Union, while hosting the Secretariat, also provides technical guidance and administrative assistance to the civil society partners across India."
Today, Subrat's day-to-day management of Project Axshya is intensive, leading the Global Fund grants on behalf of The Union and responding to the donor. He makes decisions on project implementation in consultation with the Project Management Unit, the five sub-recipient partners, the National TB Programme and other key stakeholders. At the same time, he must also manage the community engagement process for the STREAM trial sites in Chennai, Ahmedabad and Delhi, providing technical support to the Community Advisory Board. Alongside these activities he has also represented STOP TB Partnership's ACSM sub-group, is currently a core group member of WHO's Global Drug Initiative, and a 'contact group member' representing civil society for UNITAID. He has also represented The Union in several other national and international committees.
India, with the highest TB burden in the world, is aiming to end TB by 2025. Therefore, for Subrat, holding the 50th Union World Conference on Lung Health in Hyderabad is both appropriate and timely: "The conference will bring increased political commitment to end TB, and provide an opportunity for the TB world to garner support for community involvement and engagement with a focus on R&D in TB diagnostics and medicines."
Of course, Subrat also sees the Union World Conference in Hyderabad as providing an ideal forum for civil society groups. He is proud to remember the first ever civil society march held at the Union World Conference on Lung Health in Malaysia in 2012, when 100 TB activists marched through the Kuala Lumpur Convention Centre, which he had been instrumental in organising.
"We were invited to the dais by the President of The Union at the time, to present the memorandum on behalf of the civil society and community group. That event was very important to me, and every Union World Conference since then has hosted events and rallies by activists and civil society groups."
It is that opportunity that The Union provides, to work so closely with people with TB and the community, that makes Subrat so excited to participate in the fight to end TB in India. 
You can find out more about Project Axshya by consulting the latest factsheet, examples of operational research (OR) findings, information on building OR capacity in India, or in forthcoming discussions at the upcoming 50th Union World Conference on Lung Health, to be held in Hyderabad, India, from 30 October to 2 November.