Prof Simeon Cadmus, Professor at the Centre for Control and Prevention of Zoonoses at the University of Ibadan, Nigeria, is Chair of The Union's Zoonotic TB Sub-section.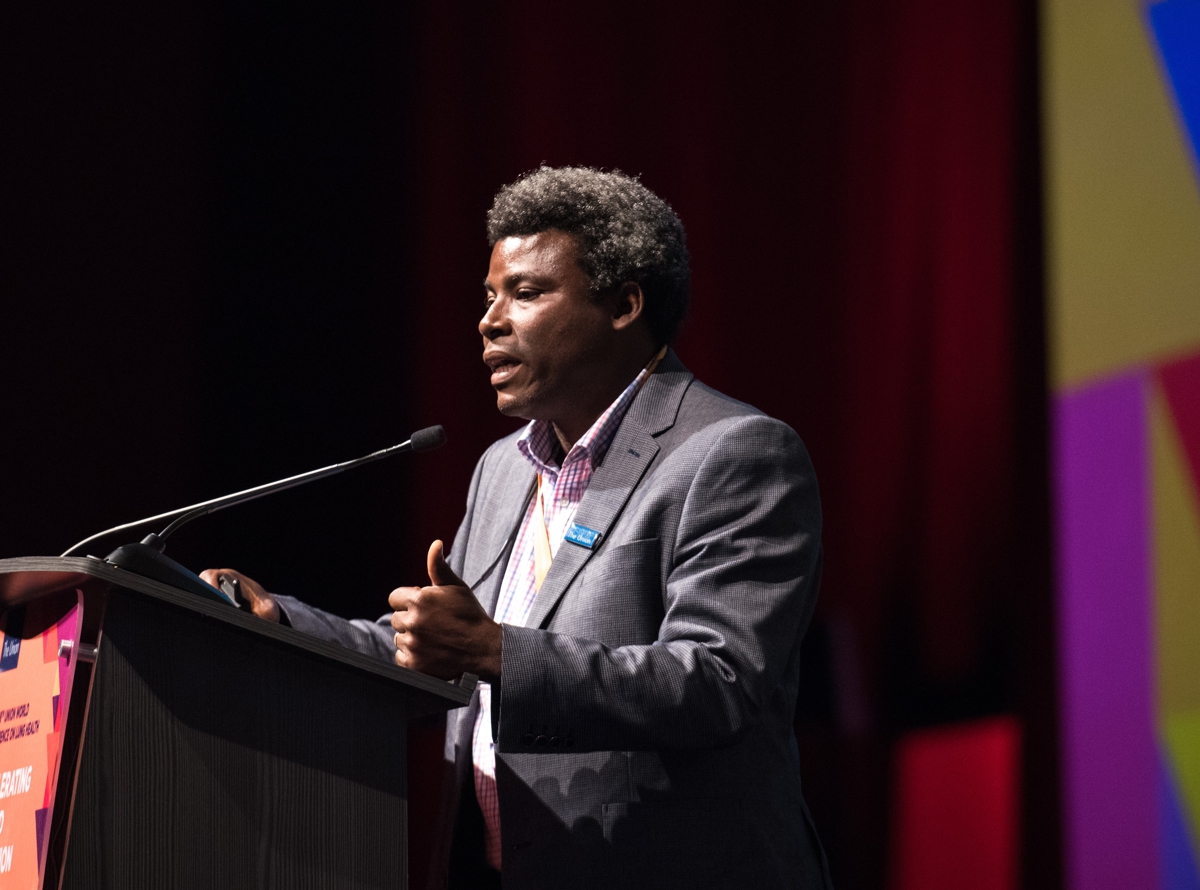 Prof Simeon Cadmus, Professor at the Centre for Control and Prevention of Zoonoses at the University of Ibadan, Nigeria, first became involved with The Union in 2005 when one of his early papers was published in the International Journal of Tuberculosis and Lung Disease (IJTLD). Now, having become a member and spearheaded Union activities to create awareness about zoonotic tuberculosis (TB) in humans and associated factors of TB in animals and other wildlife species, he is Chair of The Union's Zoonotic TB Sub-section.
Prof Cadmus has served as a Coordinating Committee of Scientific Activities (CCSA) member since 2017. The Zoonotic TB Sub-section aims to understand the dynamics of zoonotic TB and create global recognition, using a global network of veterinarians, physicians, researchers, economists and social anthropologists to provide a platform for collaboration, global advocacy and support.
Prof Cadmus says: "The Sub-section has taken a leading role in the prevention and control of zoonotic TB and related issues. At the Union World Conference in 2017 I was part of the team that produced the Road Map for Zoonotic TB, a policy document that addressed the major health and economic impacts of this disease, prioritising collation of scientific evidence, reducing transmission at the animal-human interface, and strengthening intersectoral and collaborative approaches."
The roadmap is based around the 'One Health' approach to disease control, something Prof Cadmus defines as the "gold standard" to investigating and solving public health problems and challenges.
"The One Health approach provides an inclusive platform for disease control by bringing together all the key stakeholders required for controlling diseases. Given the upsurge of infectious and zoonotic diseases globally – such as the current situation with COVID-19, which is suspected to have originated in bats – it has become essential that experts from scientific practices spanning humans, animals and the environment must be involved in disease prevention, control and mitigation. Such collaboration should be multidisciplinary, interdisciplinary, multisectoral, interagency and multicounty."
Prof Cadmus first became interested in zoonotic TB whilst undertaking his PhD and hasn't looked back since: "To me, it seemed like my supervisor directed me to a goldmine and urged me to explore the element below without any restrictions. As a young enthusiast at the time, everywhere I looked I discovered untold stories and under-reported cases concerning zoonotic TB in Nigeria. My need to tell these stories was further accentuated by the human risks I observed regularly at the human-cattle-ecosystem interface and poor laboratory diagnosis nationwide."
Prof Cadmus graduated with a Doctor of Veterinary Medicine degree in 1992 from the University of Ibadan. Five years later he was employed as a lecturer in the same institution, the Department of Veterinary Public Health and Preventive Medicine, where he has since undertaken teaching, research and community service, complimented by international training in the UK, France and the Netherlands. During this period, he honed his skills in the use of molecular tools and epidemiology of TB and brucellosis, a zoonotic infection caused by the bacterial genus Brucella, alongside acquiring the competence to investigate other infectious and zoonotic diseases at the human-animal-ecosystem interface.
To advance Prof Cadmus' work on zoonotic TB in Nigeria, with particular emphasis on diagnosis in humans and animals, he set up the Tuberculosis Research Laboratory at the University of Ibadan: "This initiative was driven by the high prevalence of TB in humans and animals, the limited number of trained personnel, and poor diagnostic facilities in the country at the time. Since then, we have conducted research studies, collaborated with scientists locally and internationally, and trained and mentored more than 50 students across Nigeria in laboratory procedures." Currently, Prof Cadmus and his team are looking at novel non-invasive methods of diagnosing child TB and bovine TB.
"Despite having had limited funds and resources, the need to bring zoonotic TB to the front burner, both in Nigeria and globally, has always inspired me."
Prof Cadmus draws on the research focus of the human-animal-wildlife-ecosystem interface as an avenue to highlight numerous under-reported, unknown and undocumented emerging and re-emerging infectious and zoonotic diseases, with the COVID-19 pandemic adding further impetus to push the frontiers of research.
"Currently, with one of my PhD students, we're investigating the epidemiology of new pathogens/diseases at the human-animal-wildlife-ecosystem interface in the Ibarapa Area, Oyo State, southwestern Nigeria. The outcomes of our preliminary study will provide relevant empirical data for the possibility of the emergence of unknown pathogenic threats, including COVID-19, among pastoralists, a neglected community leading a nomadic way of life with their livestock."
In the same region, Prof Cadmus is also undertaking the Ibarapa Meje One Health Initiative, which started in 2016 with the vision of achieving the total wellbeing of the Fulani pastoralists and their animals in the Ibarapa Meje area of Oyo State. Modelled using the Zoonotic TB Road Map, Prof Cadmus hopes that this initiative will act as a proof of principle of the One Health concept that can be scaled up and replicated in similar regions of Nigeria, Africa and globally.
When Prof Cadmus started the project, he was working alongside his wife: "she was the first medical doctor who assisted during the maiden medical outreach we had with the pastoralist community. Being a veterinarian working alongside the community health physician was a great start to an inclusive One Health platform for us to work on." The couple continues to work together on many projects, inspiring one another and providing a helping hand from their respective fields.