Ingrid Schoeman, Union Achiever Profile, August 2018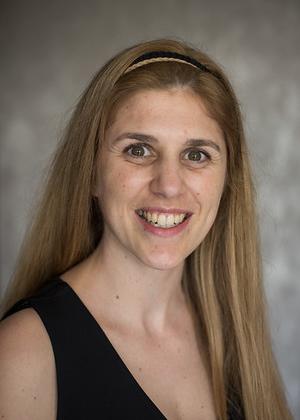 Ingrid Schoeman, Union Achiever Profile, August 2018
The horrific experience of drug-resistant tuberculosis (TB) gave Ingrid Schoeman new purpose in life. A registered dietitian, she was working in a paediatric ward in a public hospital in Port Elizabeth, South Africa, when she contracted TB. After being hospitalised for 75 days and surviving a coma due to liver failure from toxic TB medication, Ingrid became a TB advocate, working with TB Proof. She has never looked back.
"Being part of a TB-affected community has been inspiring. TB Proof members not only supported me but also became my friends. Most people in this group are volunteers with a passion to end TB, because they have been personally affected by the suffering caused by TB." She adds, "I am also so grateful for my mom's interest in my career, she has been a great support."
Ingrid is a member of The Union's Board of Directors and Operational Manager at TB Proof  The latter is a passionate yet highly focused group with goals to create safer healthcare environments for healthcare workers and patients; destigmatise all forms of TB and mobilise resources for TB prevention. All the goals have community activism at their core.
"This year, we are planning a workshop for community health workers on TB, advocacy, communication and media skills in Gauteng Province, South Africa. We are passionate about training people from TB-affected communities to become TB champions so they can reach missing people with TB and link them to health services."
It was through TB Proof that Ingrid attended her first Union world conference in Cape Town in 2015. She was then elected to The Union's Board of Directors during the 47th Union World Conference on Lung Health in Liverpool in 2016. She is part of The Union Community Advisory Panel (UCAP), which provides input to The Union Board from the perspective of affected communities, and a member of the Coordinating Committee of Scientific Activities – a role which means she is actively involved in devising the programme for The Union's annual world conference.
"To me there's no doubt that The Union equips and moves the global community forward to have the best responses in their own local communities to address TB, other lung diseases, HIV and non-communicable diseases as well as the community health problems associated with them. It provides scientific evidence to inform key stakeholders regarding critical decisions. My one plea to Union members: get to know affected communities and find a way to show kindness to them."
2018 has so far been an eventful and important year for the TB-affected community with the really critical moment – the United Nations first-ever High-Level Meeting (UN HLM) on TB - on 26 September.
Ingrid says, "I am proud to see how well organised and determined civil society is to see the world's leaders commit to the key priorities that we are campaigning for. TB survivors should be invited to all high-level meetings. TB survivors are stakeholders, so if policy makers and National TB Programme Managers do not prioritise getting to know survivors and asking for input and feedback, implementation of programmes will be less effective. TB-affected communities have insight into their local communities and are the best messengers, they can increase awareness about TB symptoms and help to decrease TB stigma in a community. Communities should be at the heart of the TB response, not on the periphery."
Ingrid and her fellow advocates have played a central role in the process leading up to the UN HLM on TB, attending specially convened meetings with the Stop TB Partnership and the World Health Organization. Ingrid feels that the momentum among affected communities to see real change is high.
However, she is clear that the input from TB survivors and affected communities must be prioritised more than currently. "Researchers should involve the community where they are planning to conduct research and ask for feedback. This could make the implementation much more effective as people feel part of the project and they would also be able to identify aspects planned by the research team that would not necessarily work in the specific community. A top-down approach should be replaced by community engagement where all stakeholders learn from each other.  
The UN HLM on TB should be the best opportunity the TB community has had for world leaders to make a stand against TB. Ingrid agrees but cautions, "If heads of state do not attend, no commitments to the political declaration will be made and people in their country affected by TB will continue to suffer and die needlessly. That would show a lack of leadership at the highest level."
When asked if TB has an image problem, Ingrid replies, "Well that might be so, but I can certainly tell you, once you get to know a person who had TB or make a friend with someone from TB-affected communities, you will see how powerful their stories are. Their stories inspire you to advocate and do more to end TB, so I think maybe the 'image problem' is more a problem of not getting the person behind the number."
She adds, "Up until now, the key asks have not been prioritised by heads of state. If we only use one example, the lack of political commitment to the goal of zero stigma and discrimination which has led people who experience TB symptoms such as weight loss, coughing for two weeks, night sweats and fever, to be too afraid of discrimination to get tested for TB. Without being tested for TB and started onto TB treatment, they remain infectious and can spread TB to their loved ones, households and communities. People are not informed that TB spreads through the air and can infect anyone or that it is curable and preventable. Local TB champions have not been supported to spread these messages.
"Furthermore, people are not provided with accessible, affordable and equitable services and care, so even if they overcome the fear of stigma and discrimination, they face severe difficulties. People live far from health facilities and getting tested and started onto TB treatment is a challenge. I can understand that people cannot take time off from work, wait in long queues, fearing that they might lose their jobs. Or others might not have money for transport to a clinic or be too sick to walk to a clinic."
For those who do access health services, they can face challenges such as adverse effects from TB medication. Ingrid's own experience is testament to the risks of TB treatment, assuming a person living with TB gets that far: "I experienced liver failure as a side effect of the TB medication and can understand how a person starts feeling hopeless when they are sick. After I woke up from the coma, I was bedridden and struggled with nausea, vomiting, diarrhoea and pain from the injectable drugs." 
For Ingrid, one of her overriding memories is she felt like giving up. "Things have to change. I realised the importance of advocacy – and it does bring change! It is so powerful when people unite, with a fire in them to make a difference. I am grateful for advocacy training by organisations such as Stop TB Partnership, RESULTS,  ACTION Global Health Advocacy Partnership, and for learning from other groups such as Global Fund Advocates Network,  Global Coalition of TB Activists, Global TB CAB, Treatment Action Campaign, Treatment Action Group, TB HIV Care and WACI Health.
"TB changed me and I like who it has made me. I would choose it again. I am grateful that God saved my life. Now, I am excited about being free and healthy, the world is open and I appreciate all the opportunities to travel, laugh, meet wonderful people and enjoy time with family and friends. For people living with TB, hang in there, there is life after TB, the sun will shine again for you."