Jayalakshmi Palanisamy is a community volunteer with The Union's Project Axshya.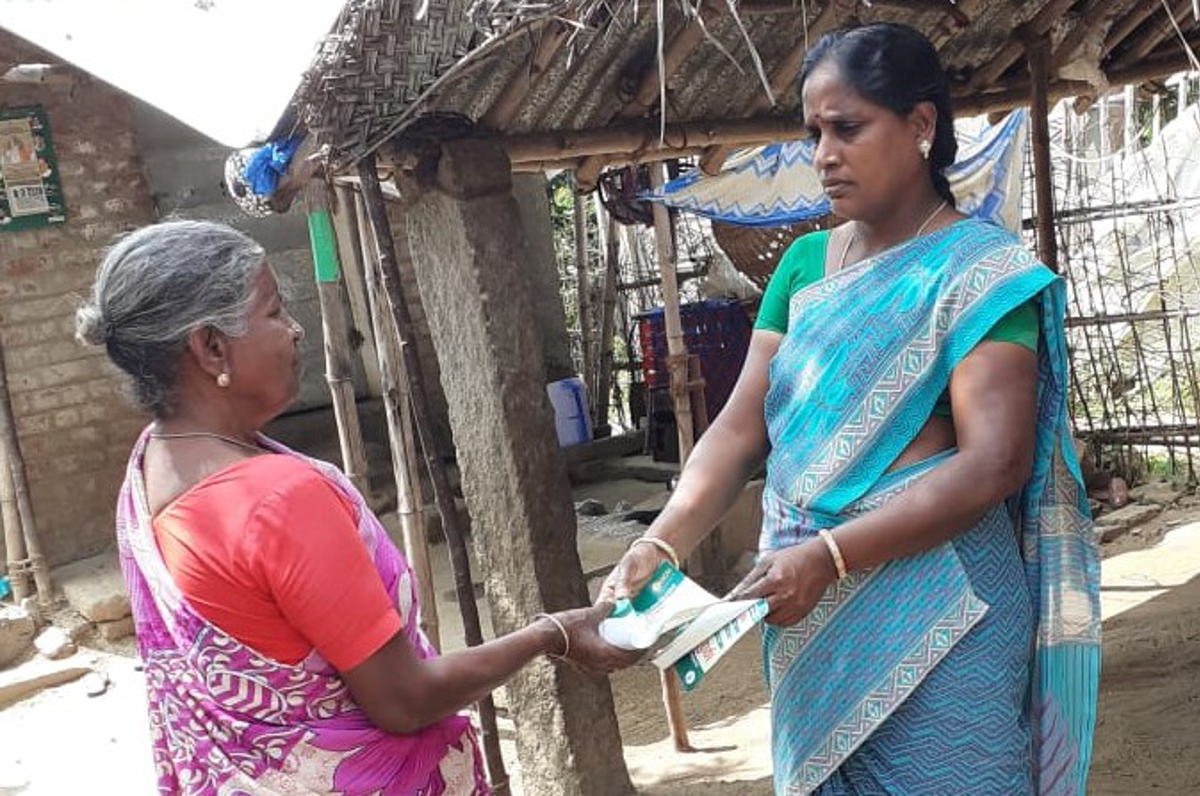 Jayalakshmi Palanisamy is a community volunteer with The Union's Project Axshya, which was launched a decade ago, and which relies upon a vast network of 10,000 community volunteers in 128 districts across 14 states of India to address the needs of vulnerable populations with regards to tuberculosis (TB).
Jayalakshmi lives in a remote village in Thanjavur, a mostly agricultural district in the southern Indian state of Tamil Nadu. Jayalakshmi's first direct experience of TB came when her husband and youngest daughter were simultaneously diagnosed with the disease: "Both of them were diagnosed when a village health visit was conducted in my village during 2016. 'Gaon Kalyan Samiti', as these visits are popularly known, is a community level event which plays an important role in identifying local health issues and taking suitable measures to solve the problems.
"At first I had little hope that they would recover from this disease. However, both of them underwent TB treatment and were returned to good health.
"Their complete recovery motivated me to become actively involved in Project Axshya, initially as a casual volunteer to identify and assist people with presumptive TB from my own village. This experience later qualified me to become a trained community volunteer, and I have been performing all types of activities for the project since then."
Funded by the Global Fund, The Union's Project Axshya (meaning 'free of TB') with its partners, NGO network and community volunteers across India, is a unique civil society initiative which improves access to quality TB care and support, especially for marginalised and at-risk populations.
Jayalakshmi trained as a community volunteer for the Kabisthalam TB Unit for Axshya Samvad. Samvad is an innovative intervention through which trained community volunteers conduct house-to-house visits, identifying people with presumptive TB and linking them to services, with a particular focus on increasing general public awareness. The training provided Jayalakshmi with a broad appreciation of what TB is; the symptoms, who is most at risk of contracting it, and the role played by Project Axshya in fighting the disease.
"As a community volunteer I visit the villages assigned to me to carry out active case finding activities. After consultation with the concerned village leader and other stakeholders, and with the support of Axshya-provided materials, I conduct house-to-house visits to speak to community members about TB. I identify and refer people with presumptive TB and assess vulnerability of co-infections such as HIV and diabetes, as well as other risk factors such as alcohol and tobacco.
"I assist with the collection of sputum samples from the people with showing TB symptoms, support the analytical process undertaken by lab technicians, and share the results with the people involved. If a TB diagnosis is made, we accompany individuals during their treatment, trace contacts, and follow-up with anyone who may have lapsed on their treatment. We also organise and participate in self-help group meetings, and support Axshya Health Camp preparations and support other activities."
Jayalakshmi is well known in her community as the 'go to' person for all things related to TB. This includes people who come to her seeking guidance, referrals and support during treatment.
"I recently worked with a family that had lost the main bread winner to TB, and other family members had also been diagnosed with TB. The mother joined our support group and we helped connect her to government and NGO programmes which enabled her to get essential supplies at the local grocery shop and her children were given special attention from the local school to help them continue their studies. I then supported the family through the strict treatment programme. I am pleased to say that through our combined efforts, the family was able to complete their treatment and they have now been cured of TB."
"To have this role in my local area gives me an overwhelming sense of self-satisfaction. I am honoured and proud to think that my services are helping us move towards a society free of TB."
The Union's Project Axshya was launched in April 2010 and is financed by the Global Fund to Fight AIDS, Tuberculosis and Malaria. You can find out more about Project Axshya by consulting the latest factsheet.