The Union's Deputy Director in Myanmar, Charlotte O'Sullivan, has a problem-solving approach to respond to the rapid pace of change in the country.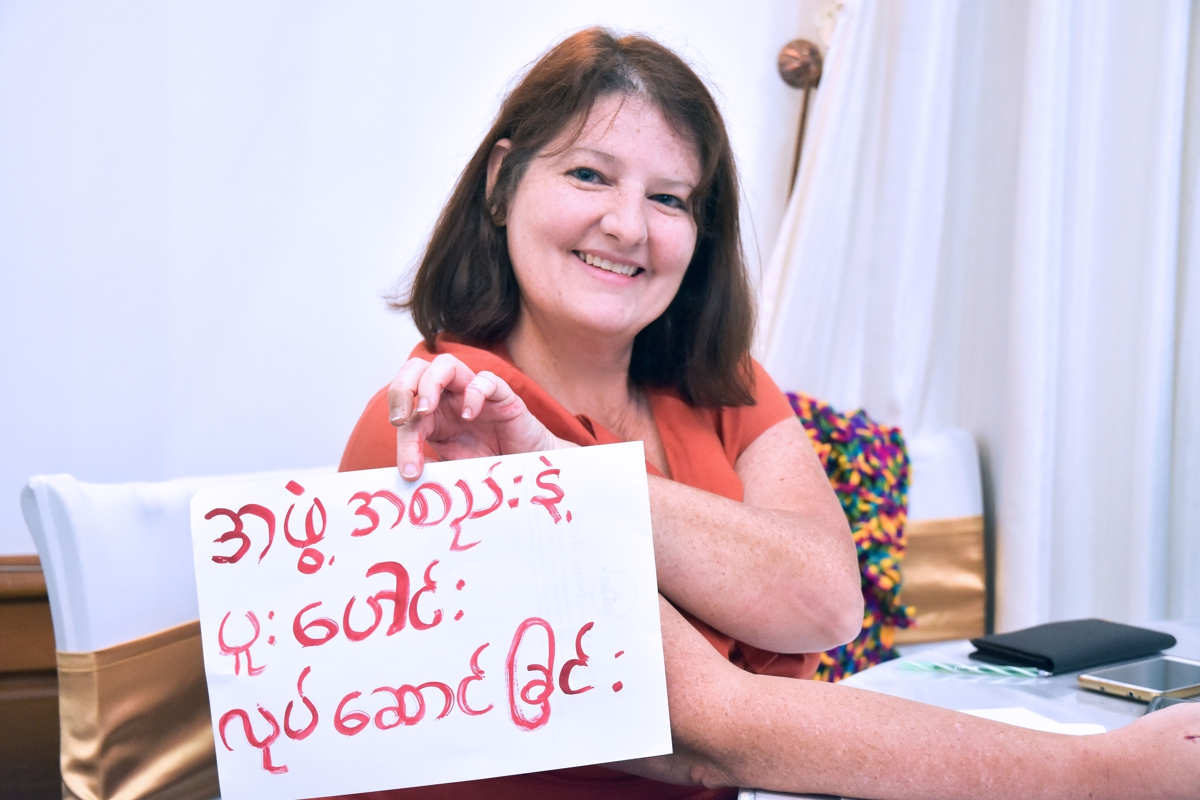 The Union's Deputy Director in Myanmar, Charlotte O'Sullivan, has a problem-solving approach to respond to the rapid pace of change in the country: "We need to think creatively to make our operations more efficient and to meet the ever-changing needs of the community and the national programmes.
"On any given day, priorities are driven by programmatic needs, and may involve networking with donors to continuously improve activities, meeting with government leaders to discuss challenges, or leading a support department through a logic tree to rework a process.
"Myanmar requires you to be on your toes and to be able to manage frequent interruptions and changing priorities."
The Union Office in Myanmar has been working closely with the Ministry of Health and Sports for almost 15 years, providing critical tuberculosis (TB) and HIV support through its flagship Integrated HIV Care (IHC) programme and other projects. Currently, The Union works in 48 townships, five regions and states throughout the country, reaching about 15 percent of Myanmar's population of 55 million.
Charlotte joined The Union in November 2017, and although relatively new to the organisation, she is not new to Myanmar: "I've been involved in the development of health services in the country for more than 20 years, touching on many areas of work including reproductive health, nutrition, maternal child health, systems strengthening, TB and HIV. 
"I was a key participant in the Cyclone Nargis' emergency and recovery response in the Ayeyarwady Delta. I worked alongside health actors from government, the private sector and non-governmental organisations, initiating an integrated health and livelihoods response in four townships." Cyclone Nargis struck Myanmar in May 2008. A category three cyclone, Nargis was the worst natural disaster in the history of Myanmar, with a death toll of more than 140,000 people.
Since then, Charlotte's work has become more focused on TB and HIV, and she explains how the interaction of support for the two co-morbidities has been of benefit in Myanmar: "Close collaboration between TB and HIV programmes ensures that 98.8 percent of TB patients are tested for HIV and 95.8 percent of HIV patients are tested for TB. It is this collaboration between TB and HIV departments, and a strong cadre of community workers and volunteers, which have led to The Union's wide-reaching impact in-country."
The statistics demonstrate the impact, with more than 31,000 people living with HIV receiving ART treatment through support from The Union. In addition, as of June 2019, more than 6,200 people have been diagnosed with TB and connected with treatment and more than 1,500 people with multidrug-resistant TB (MDR-TB) have received additional living support and assistance from The Union.
In 2019, much to Charlotte's personal satisfaction, The Union's office in Myanmar began providing HIV prevention activities. Prevention had become a critical objective in the national strategic plan and as a response, The Union's IHC programme started HIV prevention activities in fourteen townships in three regions and one state, targeting mixed-status couples.
Charlotte's dedication to health first stems from her education in the US: "My passion towards health issues began during my college years, when I was an advocate for reproductive health and family planning services in rural communities in Texas."
Her interest in health has now broadened to incorporate the wider involvement of organisations supporting vulnerable communities in Myanmar: "I have a strong interest in the private sector and support work that focuses on female entrepreneurship or female empowerment in Myanmar. One of my favourite organisations in Myanmar is Girl Determined. They do very inspiring work with adolescent girls in at-risk communities."
Charlotte is aware of the inefficiencies in the public sector in Myanmar, and the public perception that change will be slow. "One of the greatest challenges for treating people with TB and HIV relates to a lack of human resources. In this respect The Union has made a real impact. We have filled critical human resource gaps in the national programmes with high caliber people. This alone has been important for instilling hope among communities and confidence in The Union's work.
"The Union builds local leaders in the health sector who can drive change and contribute to national capacity. I am proud that the Union is deeply involved in national strategy building and has become a very strong partner of the Global Fund in Myanmar."
On a personal level, Charlotte thrives on spending time in the field, something she wishes she had the opportunity to do more often: "Each trip to a field site is a motivator because the work of our colleagues in the field is extremely challenging. Despite difficulties they always maintain incredibly positive attitudes and drive."
Charlotte's own positivity, and that of her team, comes from one of her favourite quotes: "It doesn't matter how many times you fall, but how many times you get up." This resilience and her innate ability to adapt to change are traits Charlotte was clearly born with, as illustrated when she reflects on her earlier life: "I am an accomplished photographer, but it was not my first talent. Instead, I was a musically gifted child, with my ears perhaps compensating for my blindness. I had corrective eye surgery for severe near-sightedness after college graduation. My clarinet was soon replaced by a camera!" 
Such agility means Charlotte is able to embrace change in her adoptive country of residence: "I am excited about the changing landscape of Myanmar and the opportunities we all have to contribute", she says.