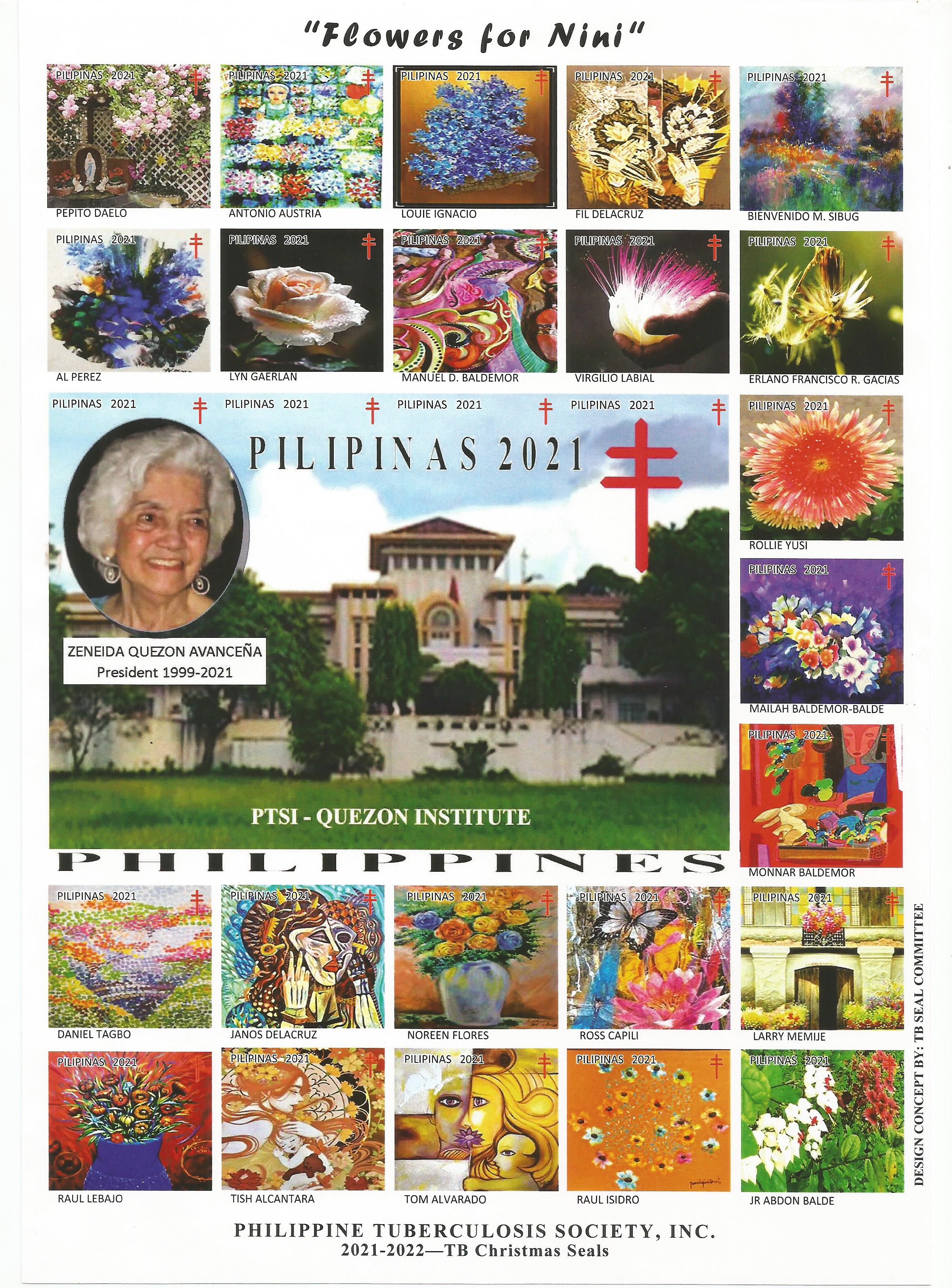 The aims and objectives of the Philippine Tuberculosis Society, Inc.
As a non-profit, nongovernment organisation founded more than a century ago in 1910, the Philippine Tuberculosis Society, Inc. (PTSI) aims to be a centre of excellence in TB research, training, clinical management, and innovative community-based approaches. The Society strives to complement the government's National TB Control Program, through an effective and efficient delivery of its TB service, with an organisation imbued with professionalism and integrity. 
What the Christmas Seal design represents
PTSI's 2021 TB seal is entitled "Flowers for Nini", paying homage to Zeneida "Nini" Quezon Avanceña, PTSI's President for 21 years (1999-2021) who passed away this July 2021. Continuing her father's (former Philippine President Manuel Quezon) legacy in the fight against tuberculosis, her compassionate wisdom and leadership guided PTSI through two decades of the most challenging times, revitalising and making it more adaptive to the times.
It was during her tenure that PTSI received the 2010 Gawad Parangal (Award of Honour) as a Most Outstanding Organisation in Quezon City for being a pioneering, non-government organisation in the campaign to eliminate TB and improve the quality of life of the Filipino people.
The 2021 TB Seal is the Society's lasting tribute of flowers for Zeneida "Nini" Quezon Avanceña, in deepest gratitude for her legacy of good governance and integrity, which will always be a lasting inspiration and a leading light to the organisation for years to come.
What the Christmas Seal sales support:
The Seal proceeds are generally used to augment the Society's financial resources for its TB community outreach programs and advocacy campaigns. However, for the year 2020, PTSI's Seals were not actively marketed due to the restrictions brought about by the pandemic.
The Philippine Tuberculosis Society, Inc. first produced Christmas Seals in 1910, the year it was founded.
E-mail : ptsi@philtbsociety.org
Tel: (+632) 8781 3761-64