"I love my work. And I love TB patients. I never see TB deaths as data, and I never forget every patient has a face."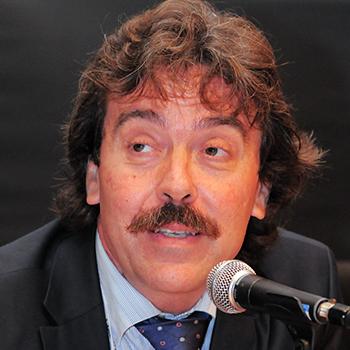 Dr José "Pepe" Caminero has taught more than 200 Union courses on TB and MDR-TB and, if he has one message he always tries to get across, it is that with good clinical and operational management all forms of drug-resistant TB have the potential for cure – including those cases with an extensive pattern of resistance. 
"Obviously the chances of success are reduced as the patient's patterns of resistance increase, but I get very angry when people say a patient is incurable", says Caminero, who has treated more than 20 patients with "totally drug-resistant TB" and achieved an 80% success rate.
Caminero's passionate interest in TB – and TB patients – goes back to his childhood. In Valdepeñas, the small town south of Madrid where he grew up, TB was very common, and, even in the 1960s, with effective treatment available, people were dying. As a young boy, he suffered from scrofula, a TB mycobacterial infection that affects the lymph nodes, and both of his parents had TB  – and survived – but other relatives were not so fortunate. 
He vividly remembers his father's treatment for renal TB and the big pills he had to take. "He was on the Edinburgh regimen, and he would tell me the names of the drugs as he took them," he recalls. When Caminero later went to medical school in Madrid, he was determined to become a respiratory disease specialist and, today, he is both head of The Union's MDR-TB Unit and a clinician treating TB patients from around the world.
Caminero first heard of The Union through reading the IUAT Bulletin in the early 1980s. At that time, he was working in a sanitarium with 300 patients who suffered from a variety of lung diseases, including TB. Through the Spanish Society of Pneumology, he was elected to The Union's international committee on the epidemiology and control of TB in 1989 and attended his first World Conference that year.  "I met Don Enarson, and he was very impressive," he says with a grin. "It became my dream to work for The Union."
Five years later, he went on his first mission – to Nicaragua – and ever since he has combined his work as a clinician in a Reference Hospital of Las Palmas (Canary Islands, Spain) with carrying out technical assistance missions and teaching for The Union.
A resident of the Canary Islands, Caminero rises early to do Union work before he goes off to The Doctor Negrin University Hospital of Gran Canaria, where he is on the wards from 8 am to 3 pm caring for TB patients three weeks out of every month. In the evening, he's back on his computer handling consultations online; and, during one week a month, he travels for The Union.
When he first started teaching Union courses in 1998, his focus was teaching specialist physicians about the importance of following national TB guidelines. As a specialist himself, he was well placed to carry this message. "These are people who know a lot and they have power and influence", he says, so bringing them on board with DOTS is essential.  His success in achieving this has led many countries to request this course, and he has also written a textbook, A Tuberculosis Guide for Specialist Physicians.
Since 2000, he has focused on addressing drug-resistant TB, becoming an outspoken and widely sought-after expert on this subject.   
Caminero's view – which is shared by his colleagues at The Union – is that the fundamental requirement for stopping MDR-TB is better managed TB programmes. In an editorial "Tuberculosis: are we making it incurable?" published last year in the European Respiratory Journal, he points to mistakes in the use of anti-TB drugs, as well as programmatic failures, ranging from poor management of adverse drug reactions to lack of social support to help patients adhere to treatment, as reasons for the trends towards drug resistance and lower cure rates. In comparison he reiterates that patients with extensively drug-resistant TB (XDR-TB) have a high chance of cure when the best available standards of care are adopted.
A member of the Stop TB Partnership's Green Light Committee for more than a decade, Caminero has participated in missions to help countries in Latin America, Africa, Asia and the Middle East improve the management of their MDR-TB programmes. He is also the principal author of The Union guide, Guidelines for Clinical and Operational Management of Drug-Resistant Tuberculosis, published in 2013.
"When I teach my course, clinicians often come into it believing that some patients can't be cured.  But after forty or fifty hours, they agree", he says.
Caminero gives his e-mail to all his course participants, and he encourages them to contact him about their difficult cases. "I am always reading, always consulting," he says.  As a result, in addition to his patients at home, he has provided advice on the treatment of patients in some 50 countries, including India, Indonesia, China, Zimbabwe, Ethiopia,  South Africa and practically all the Latin American countries.
What is behind this unstinting commitment? 
"I love my work. And I love TB patients," says Caminero. "I never see TB deaths as data, and I never forget every patient has a face."
#    #    #
Useful links for more information:
Caminero JA, Matteelli A, Loddenkemper R. "Tuberculosis: are we making it incurable?" Eur Respir J 2013; 42: 5–8 | DOI: 10.1183/09031936.00206712
http://erj.ersjournals.com/content/42/1/5.short?rss=1
Caminero JA et al. Guidelines for the Clinical and Operational Management of Drug-Resistant Tuberculosis. Paris, France: The Union, 2013. http://www.theunion.org/what-we-do/publications/technical/guidelines-for-the-clinical-and-operational-management-of-drug-resistant-tuberculosis 
Caminero JA. A Tuberculosis Guide for Specialist Physicians. Paris, France: The Union, 2003
http://www.theunion.org/what-we-do/publications/technical/a-tuberculosis-guide-for-specialist-physicians